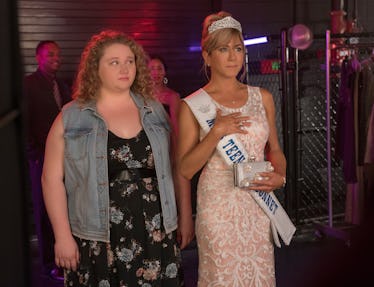 Here's What Fans Should Know About The Story Behind Netflix's 'Dumplin'
Bob Mahoney / Netflix
The new original movie Dumplin' has dropped on Netflix in a cloud of hairspray and big blonde hair, and it's not just fans of Dolly Parton who have lapped up this feel-good coming-of-age movie. Teaching viewers about self-love while simultaneously blasting a country tune, Dumplin' has fans wondering how the story of a Dolly-loving teen came to be. Is Dumplin' based on a true story? The movie is actually adapted from a bestselling young adult book.
Based on Julie Murphy's 2015 novel, Dumplin' follows plus-size teen Willowdean (Danielle Macdonald) as she decides to join the local beauty pageant that her mother (Jennifer Aniston) runs. Wanting to protest against the concept of beauty she has never managed to live up to, Will and her friends find themselves taking an alternative route to pageant success. Along the way, they often turn to the music of Will's idol, Dolly Parton, for guidance as they learn to accept and love themselves.
Featuring classic and new songs by Dolly Parton, Dumplin' is the sweet and gentle contemporary film we've been dying for Netflix to make. Luckily, the source material from Murphy's novel is just as heartwarming. The YA story became a New York Times bestseller, winning praise for its depiction of teenagers becoming comfortable in their own skins.
In a 2015 interview with Amy Poehler's Smart Girls, Murphy opened up about the process of writing Dumplin', saying:
The first scene that I put on paper was this chubby girl in a red and white uniform making out with a boy in the back of a fast-food restaurant. The next thing I wrote was this moment where's she's catcalled by an old man and she's explaining this to her mother later on in the evening and her mom's like, "That's kind of sweet." And she's like, "No, it's not." That was the moment where I really had a better understanding of the character. The last piece of the puzzle for me was Dolly Parton. Once I knew this girl was obsessed with Dolly Parton, I felt like I knew her, and she was totally alive in my head.
Murphy also discussed what she hoped readers would learn from the story, saying, "At the end of the day I just want women to be comfortable with their bodies and know that they're not born and allotted a certain amount of square footage. Your body is your body and you've only got one of them."
Dumplin's success inspired Murphy to eventually write its companion novel, Puddin'. Hitting shelves in May 2018, Puddin' features familiar characters, introducing the perspectives of Millie (Maddie Baillio in Dumplin') and Callie (Georgie Flores). On Murphy's website, the book's synopsis reads:
When circumstances bring the girls together over the course of a semester, they will surprise everyone (especially themselves) by realizing they might have more in common than they ever imagined.
Netflix has stayed mum about whether it will also adapt Puddin' into a movie, but never say never when it comes to the streaming service's decisions.
Willowdean might not be a real person, but both the Dumplin' book and movie have definitely captured a relatable spirit that so many women will understand.
Dumplin' is currently streaming on Netflix.