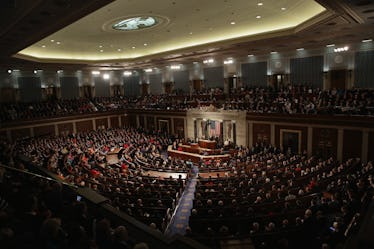 People Want To Know If Donald Trump Jr. Will Be At The 2018 State Of The Union
Alex Wong/Getty Images News/Getty Images
All eyes are on Washington and the first family this week. On Tuesday, Jan. 30, President Donald Trump will deliver his first State of the Union (SOTU) address, and the RSVP list is drawing a lot of attention. In particular, people are wondering if Donald Trump Jr. is attending the 2018 State of the Union, and his possible presence will represent another kind of elephant in the room. On Monday, White House Press Secretary Sarah Huckabee Sanders said that all of President Trump's children, with the exception of Barron, as well as Melania will be at the speech.
But scandal and controversy, around the Trump children especially, has taken some of the focus away from the president's speech this year. Though Trump Jr. has no role in his father's administration the way his sister and her husband do, instead in a leadership role at the Trump Organization with his brother, his name has still continued to pop up in headlines throughout the past year related to the campaign.
This is possibly the first time Trump's eldest son will witness his father's annual speech in person. From photos of last year's presidential address, which was not a formal SOTU, it appears that Trump Jr. wasn't in attendance — at least, he wasn't seated with Ivanka, Kushner, and Melania. (Still, he was tweeting about it.)
The SOTU commentary will almost certainly address the recent political feuding that Trump's eldest son continues to fuel.
On Sunday, Jan. 28, Trump Jr. made headlines after some petty tweeting about Hillary Clinton's cameo at the 60th annual Grammy Awards. During the show, host James Corden had introduced a skit in which famous artists were auditioning to read excerpts from Michael Wolff's inflammatory new book, Fire and Fury. Clinton's surprise audition won her the facetious part. Trump Jr. attacked Clinton on Twitter: "Getting to read a #fakenews book excerpt at the Grammys seems like a great consolation prize for losing the presidency," he tweeted. Like father, like son.
But the elephant in the room goes far beyond this week's latest Twitter drama. The first son's involvement in his father's campaign, and the connections that have been uncovered between the Trump team and Russia, have time and again put him in the hot seat.
Tensions about the Russian investigation are already high, as Trump is gearing up for a possible interview with FBI Special Counsel Robert Mueller, who is heading the investigation into Russian meddling and collusion in the 2016 election.
Trump Jr., for his part, has already met with Mueller to testify. Democrats in Congress have called for the release of transcripts of that September 2017 testimony, and Senator Chuck Grassley (R-IA) announced on Jan. 25 that he was planning to release them, seeing as the Senate Judiciary Committee had complete its review of the June 2916 meeting.
"Now it's time to start releasing the transcripts of all witness interviews we have done related to that meeting," said Grassley, per Politico. "Let's get them out there for everyone to see."
And people appeared eager to see what the transcripts contained. "We get to read what could be the most interesting transcript thus far in the Trump-Russia scandal," wrote attorney and analyst Seth Abramson on Twitter.
But Trump Jr. declined to answer one of the House Intelligence Committee's questions in December 2017 regarding a conversation he had with his father about Russia.
The New York Times reported in July 2017 that Trump Jr. had met with Russian lawyer Natalia Veselnitskaya in June 2016 at Trump Tower, with the prospect of getting dirt on opponent Hillary Clinton. Trump Jr. confirmed this himself by releasing emails about the meeting.
And then there was the news in November 2017 that Trump Jr. had communicated with WikiLeaks during the campaign, with the transparency organization pressing him to release his father's tax returns, contest the election if Clinton won, and requesting to be made an ambassador if Trump did.
Also on Jan. 25, it was revealed that the president had attempted to fire Mueller, which followed reports from Jan. 4 that Trump had ordered a White House lawyer to stop Attorney General Jeff Sessions from recusing himself from the investigation.
What Mueller's interview with Trump will bring is just one of the many points of tension that will likely hang in the air on Tuesday night. And the fate of Trump Jr. — which may, in part, be determined by that interview — is another.