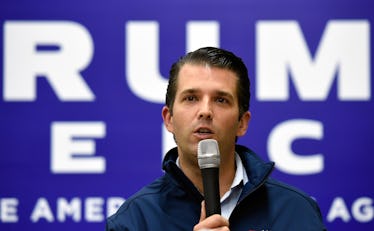 Donald Trump Jr. Really Did Not Like Hillary Clinton's Joke At The Grammys
David Becker/Getty Images News/Getty Images
It was certainly a star-studded night on Sunday, Jan. 28 as musical greats converged in Madison Square Garden in New York for the 60th annual Grammy Awards. Although Bruno Mars swept the titles, it wasn't only prominent singers who made waves at the show. Donald Trump Jr.'s tweets about Hillary Clinton at the Grammys became the subject of much debate after she made a politically charged cameo. During the show, host James Corden introduced a skit in which celebrities auditioned to read Fire and Fury: Inside the Trump White House, the controversial book by Michael Wolff. At the end of the skit, Clinton made a final Fire and Fury audition, for which she got the part. However brief, her cameo stole the show.
But President Donald Trump's eldest son didn't appear to be too pleased with the joke. Trump Jr. had some sassy remarks for the former Secretary of State and 2016 presidential candidate. "Getting to read a #fakenews book excerpt at the Grammys seems like a great consolation prize for losing the presidency," wrote Trump Jr. on Sunday night in a pair of tweets. "The more Hillary goes on television the more the American people realize how awesome it is to have @realDonaldTrump in office."
But as soon as he laid down his comments, it was predictably met with a slew of reactions.
"Hillary Clinton's Grammy Awards appearance seems to have upset Donald Trump Jr," wrote Edward Hardy.
"Your dad is historically unpopular," wrote Caroline O in a reply. "Literally, no president at this point in their tenure has been as unpopular as your dad. Ever. In the history of presidential polling."
"Here is the clip. People seemed to find it pretty funny," replied Don Moynihan, sharing the video, which had been viewed 669,000 times as of publication. "Given how Trump insults other so easily, seems like a pretty mild gag to get offended about."
"Maybe next year she'll read your indictment," wrote one user. Another user compared "being Don Jr" to "a consolation prize to being Ivanka."
But one comment seemed to strike at the heart of the issue. Replying to a user who pointed out that Clinton isn't in office, one user wrote, "Then why is your boy @DonaldJTrumpJr so obsessed with her?"
And they've got a point. This isn't the first time Trump Jr. has taken to the same social media platform favorited by his father to tender his criticism of their formal rival.
Trump Jr. wasn't the only one to react strongly to Clinton's appearance on the awards show.
U.S. Ambassador to the United Nations Nikki Haley wasn't having the Fire and Fury skit in any capacity, Clinton or not. "I have always loved the Grammys but to have artists read the Fire and Fury book killed it," she tweeted Sunday night. "Don't ruin great music with trash. Some of us love music without the politics thrown in it."
This of itself sparked its own sub-controversy, with Monday morning talk show hosts taking up the debate. Some disagreed with parts of Haley's statement — especially the part about trying to keep music out of politics — while others simply threw shade.
"Don Jr, Nikki Haley and Fox Friends were all so angry they lashed out. Awww, poor snowflakes!!" tweeted Dean Odeidallah.
But others took Haley's side, given how Wolff's book seemed to lead readers to believe that she'd had an affair with Trump. Haley has denied this rumor, and Trump has said the entire book is "full of lies, misrepresentations and sources that don't exist."
"How odd that Nikki Haley doesn't appreciate the public celebration of an author who has run around scummily insinuating that she's having sex with her boss," tweeted journalist Glenn Greenwald. Other users called out the decision to highlight the book in the wake of #TimesUp and #MeToo, given that this suggestion about Haley represented sexism. "Michael Wolff claimed with zero evidence that Nikki Haley, a daughter of immigrants, slept her way to success," wrote Fox News contributor Katie Pavlich. "But sure, if Hillary Clinton reads from his book and everyone wears a white rose, it's totally fine."
While it was a night that centered on music, the political tension ran high, and by Monday morning, the feuding and debating hadn't stopped.
Disclosure: Hillary Clinton's son-in-law Marc Mezvinsky joined Social Capital, an investor in Bustle Digital Group, in mid 2017 and joined the Board of Bustle Digital Group in early 2018.