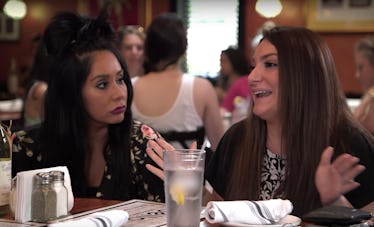 'Jersey Shore' Fans Have One Major Question After The 'Family Vacation' Premiere
MTV
Jersey Shore Family Vacation was missing a meatball when its second season premiered on Thursday night, and now fans might be worried that the cast will be down a member all season long. As we watched Snooki, JWoww, Vinny, Pauly D, Mike, and Ronnie descend upon Las Vegas for the second part of their family vacation, Deena was notably absent from all the fun. So now you might be wondering, is Deena in Jersey Shore Family Vacation Season 2 at all? We actually did see a bit of her, but she did not make it sound very likely that she would be coming to Vegas to party with her castmates.
Deena actually only appeared on screen for about a minute of the two-hour-long Jersey Shore Family Vacation: Part 2 premiere on Thursday night. Before Snooki and JWoww joined the rest of the cast in Las Vegas, they met up with Deena, where she dropped the news that she is pregnant. It's a surprise to her friends, but of course, fans of the show already knew this was coming since Deena announced her pregnancy on Instagram back at the beginning of July. Deena said that since she is pregnant now, she is opting to stay home with her husband, Chris Buckner, rather than hit the clubs in Las Vegas.
After that short appearance, Deena was completely absent from both premiere episodes, which was probably a good thing for her since the rest of her castmates were getting pulled into the cyclone of Ronnie's scary relationship drama. But just because Deena sat out of the premiere, that does not mean we won't see her on the show later in the new season. You can actually catch a couple glimpses of Deena in the teaser for the upcoming episodes of Jersey Shore Family Vacation: Part 2 that aired at the end of Thursday night's premiere.
The teaser clip shows Deena reunited with her castmates a couple of times in the upcoming season. We see her dancing with Angelina at a club and rolling around on a motorized scooter when the cast goes back to their original home of Seaside Heights, New Jersey, later in the season.
The clips also teased that the cast would attend a gender reveal party for Deena's baby at some point this season. Spoiler alert for that party: Deena has already announced that she is having a baby boy, whom she and Chris Buckner are naming Christopher John. Deena's due date is sometime in December.
So, clearly, fans do not have to worry about Jersey Shore Family Vacation losing a meatball this season, although it does seem like there will be considerably less Deena in the new episodes due to her pregnancy. But the cast seems ready with a replacement. Angelina appears to be a big part of the new episodes, popping up almost as much as every other cast member in the season teaser. Although she appeared to make her peace with her former castmates during Season 1 of Family Vacation, JWoww made it clear that she is still not a fan of her longtime rival in the Season 2 premiere. I can already feel the drama!