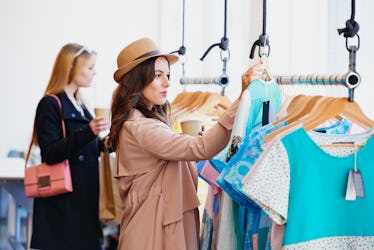 These Are The Differences In Deals You'll Find On Cyber Monday Vs. Black Friday
The biggest, baddest holiday shopping events of the year are upon us, and it's time to prepare. On Friday, Nov. 24, millions of people across the country will swarm into department stores and wage war over plasma screens, blenders, purses, and athletic gear. Then, the following Monday, another horde will gather and disperse, this time virtually, scouring the internet for the best deals and filling in the holes of what wasn't purchased on Black Friday. For those of us who don't want to splurge between both days, though, you start to wonder: Is Cyber Monday better than Black Friday, or vice versa?
It's the quintessential question of the American dream. OK, not really, but given the fact that in 2016, over 100 million people stormed through stores on Black Friday, and sales topped $3.4 billion on Cyber Monday, it's certainly a question of national importance.
When it comes to the direct comparison between Cyber Monday and Black Friday, however, there's no real, clear winner or dominant day for sales. After all, shopping is not a "one-size-fits-all" experience.
Your Cyber Monday and Black Friday preferences will depend entirely upon what you're shopping for and how you want to go about it.
First, you have to note the obvious: One shopping event occurs via brick-and-mortar stores, and another one can be enjoyed from beneath your comforter while you're watching Netflix (you can probably already guess which one I'm leaning toward).
If you're someone who thrives on that spike of adrenaline you get when you're pushing through crowds of people to get that hair straightener you've been vying for for months, then Cyber Monday might not be the event for you.
On a more realistic note, in-person shopping can be a more enjoyable experience, especially for people who just want to meander around and aren't quite sure if they want anything (although getting up at 4 a.m. to do that is quite a commitment).
Another difference between Cyber Monday and Black Friday lies in the type of deals that you'll find on each day — and yes, there is a difference between the two days regarding what you can expect to see on sale. Via DealNews, here's a breakdown of what deals to expect and when during the holiday season:
If you're interested in Androids, iPads, or kids' toys, Black Friday is the extravaganza of your dreams. If you want to invest in travel or buy laptops, kitchen appliances, clothing, or shoes, you should wait for Cyber Monday.
But here's the kicker: For most purchases, you should actually be shopping on Thanksgiving Day.
Thanksgiving day holds the highest number and quality of sales, which makes it the sneakiest holiday of all time. You get the best deals on TVs, video games, smartphones, and more.
This is mostly because brands have become so competitive that they're starting to roll out the deals and discounts a full day early before Black Friday. You know how the saying goes: The early bird gets the worm. In this case, the early shopper gets the smartphone — and probably a small heap of resentment from her family members when she ducks out of Thanksgiving dinner early to go shopping.
Between Thanksgiving Day, Black Friday, and Cyber Monday, the best thing you can do is actually think about what you need, if anything.
Sales are only a good financial decision if you were looking to buy the product anyway. You're not getting *an amazing deal* if you're about to buy something you'd never even consider at full price.
Also, it wouldn't hurt to spread a little holiday cheer in the midst of all of this holiday madness. So the next time you're about to fight someone for a ceramic bowl, take a breath and hand it over in the name of the holiday spirit.