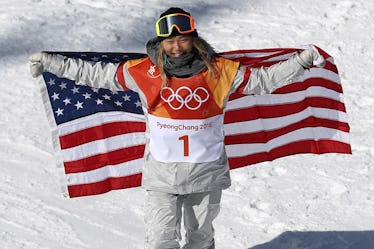 Chloe Kim Had Lots Of Plans Around The Olympics Closing Ceremony
Clive Rose/Getty Images Sport/Getty Images
It seems like it came and went in a flash, but the fact remains that the 2018 Winter Olympics closing ceremony was on Sunday, Feb. 25. The ceremony at the PyeongChang Olympic Stadium is a great chance to see your favorite Olympians one more time. Many people are likely keeping an eye out for a certain gold medal-winning snowboarder on Team USA. So, is Chloe Kim at the 2018 Olympics closing ceremony?
The 17-year-old snowboarder definitely crushed the competition during the games when she snagged the gold medal in the women's halfpipe finals on Feb. 12, and fans were eager to see her represent Team USA one more time during the 2018 PyeongChang Winter Olympics closing ceremony. However, the young snowboarding phenom had a lot of plans that look like they got in the way of attending the closing ceremony. Ah, the pain of sudden, sky-rocketing fame!
Days before the closing ceremony, Kim was out in New York City — a long way away from South Korea — to make an appearance on Tonight Show Fallon Five, a five-minute show with Jimmy Fallon. During her appearance, she talked about the shock of winning her first Olympic medal, according to TIME, saying she "felt really empty at first." (Kim clarified on Twitter that she meant that she was "very emotionally confused but with time and after processing everything I felt nothing but joy.")
Fallon and Kim also ran around NBC Studios and photobombed fans taking pictures at a fake Olympic podium, per TIME. Clearly, she's up to some fun tricks — that maybe aren't as hard as the ones she landed in PyeongChang.
Now, the closing ceremony might not be as action-packed as Kim's record-breaking Olympic halfpipe run, but it's always good to see your favorite athletes representing Team USA. To refresh your memory about Kim's gold-medal win on Feb. 12, she became the first woman to complete back-to-back 1080s at the Olympics — which, according to TIME, requires "three full revolutions in the air per trick." Kim also became the youngest woman to win the gold medal in the Olympic halfpipe.
The young Olympian has also captured hearts with her (very relatable) sense of humor. Take, for instance, this tweet about being hangry that Kim wrote not long after winning an Olympic gold medal.
OK, I can totally relate to being hangry — but knowing that I'll snap at pretty much anyone when I'm on the prowl for a hunger-relieving snack, I have even more respect for Kim laying down a gold medal halfpipe run with a growling stomach.
In another super relatable foodie moment, Kim tweeted about how churros helped calm her nerves on Feb. 11 when she wrote, "Oh, and I also had two churros today, and they were pretty bomb. So if you ever get nervous, go eat a churro."
If a gold medalist tells you to eat a churro, you eat a churro. Hopefully Kim was able to enjoy a couple churros back in the United States between her press appearances.
The athletes on Team USA represented the United States in the closing ceremony on Sunday, Feb. 25, and you probably noticed that they wore a different uniform from the one that you saw the U.S. Olympians donning in the opening ceremony on Feb. 9.
While Ralph Lauren was responsible for designing both the opening and closing ceremony Olympic looks, there are noticeable differences between the two uniforms. The look on Sunday had a sportier vibe with a nod to the athletic styles of the '80s and '90s. The Team USA closing ceremony uniform features white puffy bomber jackets; red, white, and blue color blocked crewneck sweaters; navy track pants adorned with a red-and-white stripe; and the look is topped off with knit beanies and American flag bandanas.
Although Kim was unable to don the Ralph Lauren closing ceremony look alongside her Team USA teammates on Sunday, there's one Olympic accessory that will go with whatever Kim wears from now on: her gold medal.
As all the dedicated Olympic athletes represented their countries in the closing ceremony, it's amazing to see what they've accomplished throughout the games. For the 17-year-old snowboarding phenom, though, I think her list of accomplishments is just beginning.