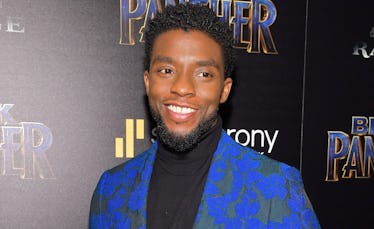 4 Things To Know About Chadwick Boseman, The Star Of 'Black Panther'
Chadwick Boseman and Michael B. Jordan are the world's favorite men right now. Everyone is shipping themselves with each of the actors following the success of Black Panther over the last couple of weeks. We already know Michael B. Jordan is single (although people are hardcore shipping him with Lupita Nyong'o), but is Chadwick Boseman single? It's honestly up in the air. I could've sworn I've seen the 41-year-old actor (yeah, he's 41) wearing a wedding ring before, but now that I'm intensely scouring the internet for those pictures, I can't find any... What happened here?! Am I imagining things?! I guess I am because there's literally no evidence that Boseman is married. This is great for anyone who's shipping themselves with him, but it's not so great for me and my sanity. Anyways, moving on!
Chadwick Boseman and Lupita Nyong'o play T'Challa and Nakia in Black Panther. (Spoiler alert.) Their characters are exes who still care about each other a lot. It's clear from the beginning of the movie that T'Challa is still head over heels in love with Nakia, but Nakia doesn't want to be queen of Wakanda because she feels her purpose is helping people outside of their home country, so they're not officially together throughout the film. But the actors' chemistry is super easy to sense onscreen, so it's only natural people would ship Boseman and Nyong'o together IRL. In an interview with E! News, Nyong'o talked about their on-screen chemistry. Nyong'o said, "I think it's just natural, really. Chadwick, he's easy on the eye, wouldn't you say?" She continued,
Chadwick is truly a magnetic person. He's magnetic! That was something I didn't have to work very hard at — in fact, what I had to work hard at was pulling back. Because Nakia, she's not there. She's not here anymore — not yet. It's complicated. Their Facebook status is 'It's Complicated.'
But what isn't complicated is their relationship IRL. Chadwick Boseman and Lupita Nyong'o aren't dating, fam. And although Boseman has been connected to a couple of unidentified women in the past, there's no evidence to show he's currently married or in a relationship, which I'm sure will come as great news for all of the people tweeting their questions about his current relationship status.
So, now that we (think we) know Chadwick Boseman is single, what else do we need to know about him? Here's everything you need to know about Black Panther's Chadwick Boseman:
1. Before he made his debut as T'Challa/Black Panther in Captain America: Civil War, Boseman was mostly known for starring in biopics of famous black men.
Boseman has played an unprecedented number of some of the country's most influential black men. He played Jackie Robinson in the film 42, James Brown in Get On Up, and Thurgood Marshall in Marshall. There are a plenty of actors who don't even star in one biopic in the span of their entire careers, let alone star in three in just four years.
When it comes to playing more famous men in the future, he said in an interview with Shortlist that he's done with biopics for now. But he noted Gary Oldman's portrayal of Winston Churchill in Darkest Hour appealed to him because the film's premise is similar to the premise of Black Panther. He said, "It's a great example of how people need a person to represent not just their political needs, economic needs, social needs… but their emotional fabric. Because that story's about how to survive in a war when death is imminent. That concept is just as important in Black Panther."
2. He started out his Hollywood career with a passion for writing and directing and literally thought acting could be his side hustle.
In a 2014 interview with GQ, Boseman told the outlet that he was told early in his career he couldn't be a writer, director, and actor. He said, "I remember my first agent telling me — because they found me as an actor, but I was probably more interested in writing and maybe directing — they were like, 'Well, you can't do both things.' And I was like, 'I'm gonna show you.'" He definitely did show them, seeing as one of his upcoming projects is the film Expatriate directed by Barry Jenkins (Moonlight) for which he co-wrote the script and is starring in, according to Shortlist. He's also a playwright and was ready to pursue a full-time career in theater before being cast in 42.
3. He went to Howard University in D.C. for undergrad and then studied acting at Oxford University.
He said in an interview with New York's Power 105.1 that the only reason he became an actor was so he could learn to communicate with them effectively (something a good director obviously needs to know how to do). He said,
I actually started out wanting to direct, wanting to write. I really only started acting because I wanted to know what the actors were doing, how to communicate with the actors. And then I realized I'm supposed to do all of it. I studied. I studied at Howard. I studied at Oxford.
4. He's been overwhelmed by the huge influx of love and support Black Panther has received, both from critics and fans.
Boseman was moved to tears during a Q&A with Sirius XM Radio on Feb. 13. When asked about how the success of Black Panther has affected him, he told the story of two young boys who passed away before being able to see Black Panther. "There are two little kids, Ian and Taylor, who recently passed from cancer," he said. "Throughout our filming, I was communicating with them knowing that they were both terminal." He continued,
And what they said to me, and their parents said, was they're trying to hold on until this movie comes. To a certain degree ... it's a humbling experience because you're like, 'This can't mean that much to them.' But seeing how the world has taken this on, seeing how the movement has taken on a life of its own, I realize that they anticipated something great.
He had to pause what he was saying because he started crying, but when he spoke again, he said being a part of Black Panther "means a lot" because of kids like Ian and Taylor.
The next big Hollywood event you'll see Chadwick Boseman attend is the Oscars on Sunday, March 4, as he's been slated to present one of the awards of the night. Boseman's film Marshall is nominated in the Best Original Song category, but it's not yet known if that's the category he will be presenting. The 2018 Oscars will begin at 8 p.m. EST on Sunday, March 4 on ABC.