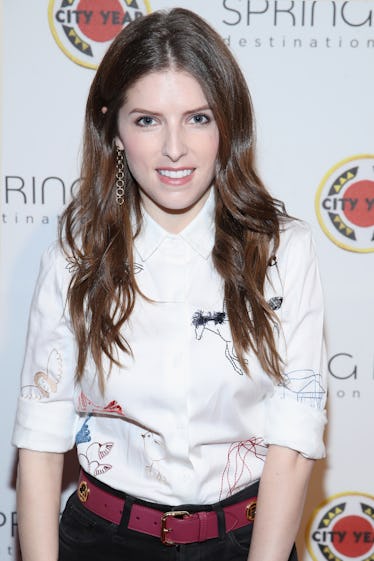 Anna Kendrick Has Reportedly Been Dating This Cinematographer For The Past 4 Years
Randy Shropshire/Getty Images Entertainment/Getty Images
It's a rare thing to find a Hollywood celebrity who is not only gorgeous, but witty, charming, down-to-earth, and adored by pretty much everyone who exists on this planet we call home. Enter Anna Kendrick, the unadulterated queen of Twitter, who is just as stunning as she is smart, making her a total catch for anyone who's lucky enough to date her. But Kendrick is not someone you see very often in the tabloids — mainly because she tries to keep her personal life as low-key as possible. Someone so effortlessly cool *has* to have suitors lined up outside of her door, but is Anna Kendrick single? Sorry folks, you can knock on her door until the cows come home, but it looks like she won't be answering.
While Anna Kendrick tries to keep her love life out of the spotlight, it looks like she and cinematographer Ben Richardson have reportedly been dating since — get this — 2014. YES FAM, Anna Kendrick has seemingly had a boyfriend for the last four years, and you would have never even known! Elite Daily reached out to Kendrick's team for confirmation of her relationship status, but did not hear back by the time of publication.
According to The Daily Mail, Kendrick and Richardson first met in 2013 "on the set of Drinking Buddies and then again on the set of 2014's Happy Christmas," and now my mind is officially blown.
Even though the pair is typically tight-lipped about their relationship, the couple was spotted on July 10 at Miami International Airport, meaning that yep, these two are still going strong, and I for one am loving it.
In the past, Kendrick has been incredibly open about what her dating life was like, and in an interview with Elle, the Pitch Perfect star revealed that she was more than happy to dump a guy who didn't respect her request not to be tickled. And, while that might sound sort of funny, it really boiled down to the fact that the dude didn't listen when Kendrick said "no," which we all know is a big thumbs down.
"I was dating a guy. He tickled me playfully, and I said, 'I know that's cute and that people do it, but I really don't like being tickled. It really makes me feel trapped and panicked," Kendrick told the magazine back in December 2017.
She continued, saying, "I know it's silly and funny for most people, but I really hate it, so could you please not?' He thought that it was really dumb that I had a problem with being tickled and did it anyway."
If a lady is telling you no, that means NO, buddy.
She ended things with the guy, and told the magazine that she knew that he might consider her "the crazy girl," but ultimately, Anna Kendrick simply DGAF:
I broke up with him. And I knew that in the retelling of that story, I would be some crazy girl. You never want to be labeled 'the crazy girl' ... That he would tell his friends, 'Oh, she broke up with me, because I tickled her. What a psycho.' I just had to go, 'No, I broke up with you because I told you something was important to me, and you didn't respect that.'
If you're ever looking for a "drop the mic" moment, there ya go.
So good job to the loser who didn't respect Anna Kendrick. Lucky for her, she's now living her best life under the radar with her man Ben. Good job, Anna. You just keep being awesome.