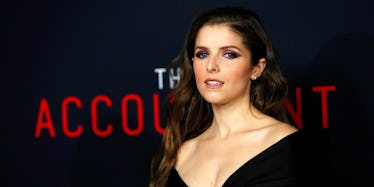 Anna Kendrick High-Fived The First Guy Who Gave Her An Orgasm: 'Up Top!'
REUTERS
She just had to hand it to him...
Anna Kendrick treats good sex the way I treat a good movie: If there's a good climax, I'm going to clap my hands together in applause.
In her new memoir "Scrappy Little Nobody," Anna opened up about how she delivered a high five to the first guy who ever gave her an orgasm and his subsequent (and kinda lame TBH) reaction,
So hey, first time I've had an orgasm during that whole situation. I raised my hand for a high five. 'Up top!' The guy apparently didn't take the compliment very well, but let's be honest, any form of communication and camaraderie in your sex life should be a good thing.
Basically, I'm guessing this laying of skin looked a lot like this:
So, I have quite a few thoughts on this anecdote.
If anyone gave me a high five after sex and then bellowed, "Up top," I'd feel on cloud nine. I love high fives, plus it builds up your resistance to germs.
Who is this (sexually gifted) loser to judge a high five coming from the perfect person that is Anna Kendrick?
Forget giving this guy a high five. His inability to take this high praise deserves a low three, if you know what I mean.
Secondly, Anna's absolutely right. Communication is key when it comes to bumpin' in the boudoir or chafin' in the chamber.
Although I'm told my insistence on referring to sexual intercourse as "bumpin' in the boudoir" is not good communication (and a turnoff).
I'm also told my reference to sex as "chafin' in the chamber" is actually a crime in 11 states or will soon be... in Trump's America.
The bottom line is Anna is always pitch perfect in her pithy musings and stories.
If you need to catch yourself up on what she's been up to, check out her newly crimped hairdo.
Citations: ANNA KENDRICK HIGH-FIVED THE FIRST GUY WHO GAVE HER AN ORGASM (Maxim)