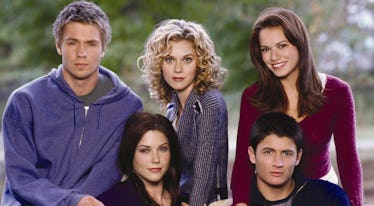 The 'One Tree Hill' Cast Teased A Secret Project & Fans Are Going To Be Excited
The WB
We might be making a trip back to Tree Hill, North Carolina pretty soon! The WB's (and then CW's) teen drama One Tree Hill ran for nine seasons before ending in 2012, but six years later, it remains as beloved by fans as it did when it premiered, and now the show might be staging a comeback. The One Tree Hill cast reunited for a secret project over the weekend, and posted cryptic messages about what the reunion might be about. So, obviously, we are all wondering the same thing right now: Is a One Tree Hill reboot happening? There is definitely something in the works.
Over the weekend, a number of cast members from One Tree Hill posted photos from a production set in Lafayette, Louisiana. Not only were the reunion pics a clue to fans, but the actors also included some tip-offs about a possible reboot in their captions. Antwon Tanner, who played Skills Taylor on the series, posted that a new project is coming soon. Hilarie Burton (Peyton Scott), Robert Buckley (Clay Evans), and Danneel Ackles (Rachel Gatina) also posted pictures from the mysterious new project, and everyone captioned their photos with the hashtag #Christmas2018, clearly suggesting that whatever it is they are working on, it will be released this December.
To make matters even more mysterious, the One Tree Hill actors deleted their Instagram posts about the reunion project shortly after posting them. Although they are no longer online, you can check out the now-deleted Instagram posts at TV Line.
Although One Tree Hill ended six years ago, the show's cast is still tight. They have gotten together for reunions a handful of times, and last year, most of the cast and crew signed an open letter accusing showrunner Mark Schwahn of sexual misconduct. Although the cast has gotten together a few different times since One Tree Hill ended, this is the first time that it looks like they are actually working on some sort of reboot series or reunion special.
So what might this potential One Tree Hill reboot be about? Well, the series is no stranger to time jumps, and although the final seasons showed the characters out of school, it would definitely be interesting to see what Lucas, Nathan, Peyton, and the rest of the gang are up to in their middle age. And since Tree Hill High School played such a central role in the show's first few seasons, a high school reunion could be just the thing to bring everyone back together again and reliving their high school glory days. After all, it has been almost exactly 15 years since One Tree Hill first premiered back in 2003, which is a perfect landmark for a reunion.
While it's common knowledge that pretty much every fan-favorite TV show from the '90s and '00s is getting a reboot these days, a One Tree Hill reboot might actually be a huge deal due to its genre. Most of the shows getting reboots are sitcoms or comedies (see Fuller House, Will & Grace, Roseanne, etc.), but a bunch of TV fans are clamoring for their beloved teen dramas to make a comeback. That genre ruled network TV in the '00s with hit shows like Gossip Girl, Dawson's Creek, The O.C., and Friday Night Lights, but despite all the fan love, there has not been news of any major teen drama getting a reboot. Maybe a One Tree Hill reboot series could get the ball rolling for the rest of its kind?
It looks like we are going to have to wait until December to see what this One Tree Hill reunion project is really about, so get excited!