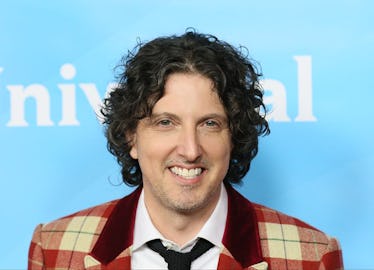 Sophia Bush Writes Powerful Tweet After 'One Tree Hill' Showrunner Is Accused Of Sexual Assault
JB Lacroix / Contributor / Getty Images
The list of sexual harassment accusations in Hollywood continues to grow, and now, a show's cast and crew joined forces to shed light on the misconduct they claim to have experienced. In an exclusive letter to Variety, actresses and writers alleged that Mark Schwahn of One Tree Hill sexually harassed the women he worked with on the show. The women behind the drama series, including Sophia Bush, assured that they are "all in this together."
Elite Daily reached out to Schwahn's representatives but did not hear back at the time of publication.
In a lengthy Twitter reveal, one of the writers behind the hit show, Audrey Wauchope, discussed the abuse she claimed to face from One Tree Hill's showrunner. Though Wauchope didn't actually name anyone throughout her series of tweets, she did say, "This thread about showrunners is so important. The writers room is a safe space. Safe spaces does not equal a space to safely abuse." Theories began to swirl about One Tree Hill when she mentioned that the men on her other show, Cougartown, are "aces." She continued,
I'm furious and sad and everything else for the women who have sat on that couch next to that man. And I'm furious and sad and everything else that years later I don't feel safe to be able to do anything real about this and that it seems to be happening all over this town.
Following her claims, Wauchope's fellow female colleagues — including Sophia Bush, Hilarie Burton, and Bethany Joy Lenz — chose a platform via Variety to stand in unison. Though the women wrote that fans claimed the show saved their lives, they believe the safe space behind its creation was threatened by "an underlying infectious cancer." Unlike Wauchope's tweets, the letter mentioned Schwahn by name.
The message alleges abusive behavior from the showrunner and that post-traumatic stress resulted from these actions. Throughout it all, the women continue to show "unwavering support of and faith in one another." A portion of the message claims:
Behavior over the duration of the filming of One Tree Hill was something of an 'open secret.' Many of us were, to varying degrees, manipulated psychologically and emotionally. More than one of us is still in treatment for post-traumatic stress. Many of us were put in uncomfortable positions and had to swiftly learn to fight back, sometimes physically, because it was made clear to us that the supervisors in the room were not the protectors they were supposed to be.
One of One Tree Hill's main stars, Sophia Bush, took to Twitter to show where she stands. She tweeted a link to the Variety piece and wrote, "#BurnItDownSis #F*ckYourSorry #BelieveWomen." She also retweeted a male writer behind the show who showed support for Wauchope.
The actress also shared the story on Instagram. Her caption read, "It's time, sisters. I am so proud to call these women my family. You cannot imagine. #linkinbio." The photo she posted was of her tweet about the Variety article.
This news comes on the heels of another story about our beloved Diana, Princess of Themyscira. On Nov. 11, reports circulated that Gal Gadot might quit Wonder Woman if producer Brett Ratner continues to participate in the making of the franchise. Actresses such as Olivia Munn and Natasha Henstridge have accused Ratner of sexual harassment, while Ellen Page accused him of outing her publicly as a lesbian before she was ready to do so herself. "He looked at a woman standing next to me, 10 years my senior, pointed to me and said, 'You should f*ck her to make her realize she's gay,'" Page said, according to Page Six. Elite Daily reached out to Ratner's representatives for comment but has not heard back by the time of publication.
Ratner's production company, RatPac-Dune Entertainment, co-financed this summer's blockbuster sensation, which ultimately raked in more than $400 million internationally, alongside Warner Bros. Wonder Woman changed the game of action movies, and its star will not let anyone diminish its importance. Unless he is bought out of the co-financing deal, Gadot will reportedly not sign on for the movie's sequel, according to Page Six. Ratner, however, has denied any allegations of misconduct.
A source who spoke with Page Six claimed Gadot was unwavering in her support for women. "They [Warner Bros.] can't have a movie rooted in women's empowerment being part-financed by a man ­accused of sexual misconduct against women," the source told Page Six.
The issue of harassment keeps surfacing across Hollywood, and it's time everyone in the industry — male or female — be treated with the respect they deserve.