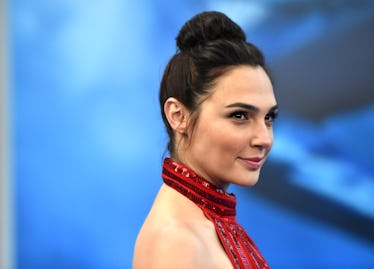 Gal Gadot Will Play 'Wonder Woman' Again, But Only Under One Condition
Frazer Harrison/Getty Images Entertainment/Getty Images
In the wake of the numerous Harvey Weinstein allegations, the issue of sexual harassment continues to plague Hollywood. The latest celebrity to take a stand against the misconduct allegations is none other than Diana, Princess of Themyscira. On Nov. 11, reports circulated that Gal Gadot might quit Wonder Woman if Brett Ratner continues to participate in the franchise's production, proving she is not on board with anyone who has been accused of mistreating women.
Ratner's production company RatPac-Dune Entertainment co-financed this summer's blockbuster sensation, which ultimately raked in over $400 million internationally, alongside Warner Bros. The girl-power flick changed the game of action movies, and its star will not let anyone diminish its importance. Unless Ratner is bought out of the co-financing deal, Gadot will reportedly not sign on for the movie's sequel, according to Page Six. Elite Daily has reached out to representatives of both Gadot and Ratner for comment but did not hear back by the time of publication.
Actresses such as Olivia Munn and Natasha Henstridge have accused Ratner of sexual harassment, while Ellen Page accused him of outing her publicly as a lesbian before she was ready to do so herself. Page claimed during a meet-and-greet for X-Men: The Last Stand, he decided it was appropriate to discuss her sexuality. "He looked at a woman standing next to me, 10 years my senior, pointed to me and said, 'You should f*ck her to make her realize she's gay,'" Page said, according to Page Six. Ratner has denied the allegations of misconduct, telling The New York Times via lawyer that "we are confident that his name will be cleared once the current media frenzy dies down and people can objectively evaluate the nature of these claims."
Gadot appears to have cut ties with the Hollywood hot shot. She reportedly refused to honor him at a dinner earlier this year, according to Page Six. A Warner Bros. insider chatted with the outlet and made it clear where the actress stands. The source said,
She's tough and stands by her principles. She also knows the best way to hit people like Brett Ratner is in the wallet. She also knows that Warner Bros. has to side with her on this issue as it develops. They can't have a movie rooted in women's empowerment being part-financed by a man ­accused of sexual misconduct against women
Earlier this year, it was confirmed that Patty Jenkins will not only direct the Wonder Woman sequel, but will produce it as well. The movie's theme might have proved women's power, but so did the brains behind the hit. Sources revealed to The Hollywood Reporter just how iconic this franchise has become in the industry, saying,
The deal is a superheroic leap for Jenkins, who was paid $1 million for directing the initial Wonder Woman but was looking to get something more on the level of Zack Snyder's pay after he directed Man of Steel, according to sources. Just like the Wonder Woman movie broke glass ceilings for superhero movies, Jenkins' deal breaks glass for women directors.
Gadot also made sure to empower women off the screen as well. During ComicCon, a little girl donned in Wonder Woman gear went up to Gadot and began to tear up upon meeting her idol. Gadot comforted the little lady when she got emotional, and the little girl's mother, Christine Keller, was forever grateful for the actress' compassion. "These characters matter and can have a huge influence on young people," Keller wrote on her "Danica Dreamer" Facebook page. "What a great role model and genuine, nice person. My daughter will always remember this moment for the rest of her life."
Gal Gadot is synonymous with Wonder Woman, for more reasons than fighting off the bad guys on the big screen. She proved to women (and little girls) that they are strong and confident, and yes, this is why her character —onscreen and off — is so important.