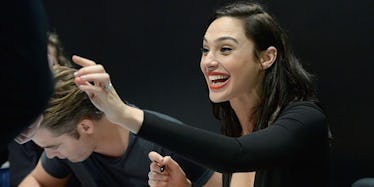 A Little Girl Cried To Gal Gadot About 'Wonder Woman' & The Video Is So, So Sweet
Charley Gallay/Getty Images
A young girl cosplaying as Wonder Woman at Comic Con cried when she got to meet her hero — Wonder Woman herself, Gal Gadot. In a video of the exchange, Gadot comforts the young fan, and it's the sweetest video you'll see all week.
The girl's mother, Christine Keller, said in a tweet that her daughter meeting Gadot was "memories of a lifetime!" She said,
That was my daughter. She was so happy to meet her that she was tearing up. Gal was so sweet to her. Memories of a lifetime!
In the video, you can see the girl tearing up while speaking with Gadot, and Gadot comforting her and signing her Justice League poster.
Gadot was sitting at a table with fellow Justice League stars Ezra Miller, Jason Momoa, Ray Fisher, and Ben Affleck at Comic Con in San Diego signing autographs for fans. The video also shows a young boy who cries as he gets to take a picture with Ben Affleck in a really sweet moment.
You can hear Gadot saying, "Oh, but now you're fine, so there's no reason to cry anymore, right? We are together!" to comfort the girl, who was wearing all Wonder Woman gear.
In a Facebook post following the sweet moment, Keller said,
These characters matter and can have a huge influence on young people. What a great role model and genuine, nice person. My daughter will always remember this moment for the rest of her life.
Moments like this is why Wonder Woman is such an important movie.
As the girl is getting ready to walk away, Ezra Miller (who's playing Barry Allen/The Flash in Justice League) says, "You're a warrior! That's a warrior! I see it ... Come join the Justice League whenever you're ready."
Wonder Woman is the most successful movie of the summer, and it doesn't look like any other movie will be able to beat it.
Between the billion-dollar success of Beauty and the Beast and the now-classic Wonder Woman being the most successful movie of the summer, female-led movies are clearly what people want to see.
But major box office success shouldn't be the only reason production companies rally to make more inclusive films.
They should be making female-led — and not just white female-led — films because representation in film is inspiring for young kids.
When they can see themselves as superheroes on the big screen, they believe they can do anything.
A moment similar to this happened at the Ghostbusters premiere in 2016.
A group of girls dressed as the Ghostbusters and got to meet Kristen Wiig, one of the film's stars. Their faces lighting up as they met one of their heroes speaks volumes to how important it is to show young girls that women can do anything — and yes, that includes catching ghosts.
It doesn't matter that these films are fictional. These girls most likely don't actually believe they're going to spend their lives catching ghosts or will one day learn to fly and have the super strength of a goddess. (And even if they do, who cares? They're kids! Let them dream.) These movies don't give them unrealistic expectations. In fact, they give them just the opposite.
What these movies prove to them is that women can be just as heroic as any man, and that's one of the most important things a girl learns in her life.