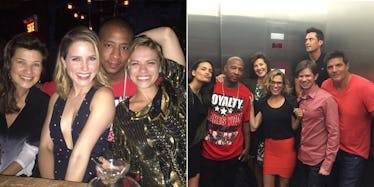 This Awesome 'One Tree Hill' Reunion Will Make You Seriously Nostalgic
"One Tree Hill" was like the aughts edition of "Dawson's Creek": beloved by teenagers everywhere and desperately missed when it finally ended after a nine-season run.
If you're one of the many whose life lost all purpose after the show got pulled, worry not. There was just a "One Tree Hill" reunion, and yes, it was as glorious as it sounds.
The reunion was attended by the show's thousands of fans in Montreal — apparently, Americans aren't the only ones in love with teen-oriented soaps — and held in a massive convention hall in the Canadian city.
A few major cast members, including Chad Michael Murray and Hilarie Burton, were noticeably missing from the event.
Regardless, the convention was a major success, and we have the pictures to prove it.
Check 'em out below, and be transported to the glory days of the 2000s. You're welcome.
Antwon Tanner, who played Antwon "Skills" Taylor on the show, did the honor of documenting the reunion via Instagram.
Though the show ended three years ago...
...it's clear the former cast members are still as close as ever.
In fact, Tanner even refers to them as "family." Aww!
Even though a few didn't show up to the convention...
...some, like Hilarie Burton, made surprise appearances on Tanner's Instagram page later on.
The fan convention was held in Montreal on Saturday.
Afterward, the former "One Tree Hill" stars spent a night out on the town together....
...just like old times.
While we'll always miss "One Tree Hill"...
...this awesome reunion proves the show lives on.
Citations: This Huge One Tree Hill Reunion Will Give You the Warm and Fuzzies (PopSugar)