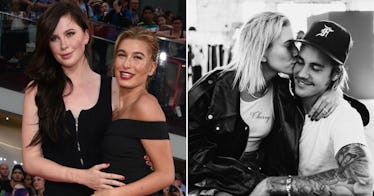 Hailey Baldwin's Cousin Ireland Celebrated Her Engagement With The Best Justin Bieber Joke
Dimitrios Kambouris/Getty Images; Instagram/JustinBieber
It's always nice to know when your family approves of your significant other, especially if you plan on marrying the person. It just makes things slightly easier to have no drama between the people you grew up with your entire life alongside the person you'll actually be with for your entire life. And luckily for Hailey Baldwin, it looks like she's got her family on her side when it comes to her engagement with Justin Bieber. In case you weren't aware, Hailey Baldwin comes from a *pretty* famous family herself (her father is Stephen Baldwin and her mother is Kenya Baldwin), and has some pretty famous relatives too, including cousin Ireland Baldwin, a fashion model and actress, whose parents are Alec Baldwin and Kim Basinger. So, you know, NBD. It appears that Hailey's cousin is not only ecstatic about her impending nuptials, but is also clearly a comedian, because Ireland Baldwin's post celebrating Hailey's engagement might actually have you in tears, because it includes a throwback Justin Bieber joke. This story just keeps getting better and better, y'all.
Now, we all remember baby Biebs. His swooped haircut, his chubby cheeks, and, of course, his pre-adolescent crooning of love songs that made all the girls go bonkers. In short, he looked a little somethin' like this:
Crushing it, Justin!
And since I'm having you look at a young Bieber, let me remind you of his hit song in 2009, entitled "One Less Lonely Girl." You remember it, and don't tell me that you don't because then you'll be lying. Maybe I'll refresh your memory with some of the beyond moving lyrics that turned us all into Beliebers. Part of the song went,
I'm coming for you, one less lonely girl, There's gonna be one less lonely girl, I'm coming for you, I'm going to put you first, I'm coming for you, I'll show you what you're worth, That's what I'm gonna do if you let me inside of your world, There's gonna be one less lonely girl
An absolute classic.
So, in honor of Hailey Baldwin and Justin Bieber's engagement, cousin Ireland took to Instagram on Tuesday, July 10, to congratulate the couple in the most iconic way — by cheekily weaving in some of Bieber's old music into her caption.
The photo Ireland posted depicts a small Hailey Baldwin in a bathtub, wearing a bathing suit and looking adorable AF. She captioned the photo,
There's gunna be one less lonely girl 💍 ... and only one lonely girl left 😚 my other chicken is soon to be a beautiful bride ♥️. congratulations to the two of you @haileybaldwin@justinbieber
What more could you even want from a celebratory Insta post? We've got a throwback photo, a hilarious pun, and yet even more confirmation that Justin Bieber and Hailey Baldwin's engagement is the real deal.
It seems like Ireland isn't the only Baldwin to be over-the-moon about the couple's big news. When TMZ broke the news on July 8 that Bieber and Hailey Baldwin reportedly got engaged the day before, we didn't hear any official confirmation from either of two, but we *did* get to see Stephen Baldwin's tweet about Justin Bieber and Hailey Baldwin that certainly made it seem like the report was indeed true. The very same day that the reports dropped, Stephen Baldwin tweeted a heartfelt congratulations to the couple — but was deleted shortly after.
He wrote in part,
Sweet smile on my face! Me&wife (Kennya) Always pray 4 gods will!! He is moving in the hearts of JB&HB. Let's all pray for His will to be done. Love you 2 so much!!!
My bet is that Stephen Baldwin didn't realize he wasn't allowed to share the good news yet and was probably yelled at by his daughter to delete it immediately. Classic dad move right there.
But now that the cat's out of the bag, I have a feeling that both the Bieber and the Baldwin families will be sharing their excitement in the days and weeks to come.