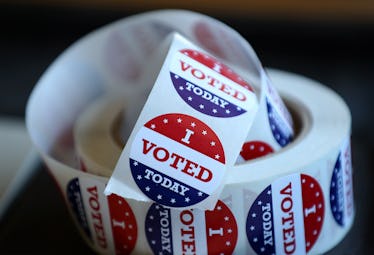 Instagram's "I Voted" Sticker Will Let You Brag About Your Civic Responsibility
Justin Sullivan/Getty Images News/Getty Images
The 2018 midterm elections in the United States are less than two months away, and your favorite photo-sharing app Instagram is ready to help you celebrate. This week, the social media giant rolled out a campaign to help voters get to the polls in November. Instagram's "I Voted" sticker will let users celebrate after they've cast their ballots, and — even better — encourage others in their feed to do so as well.
"Ahead of National Voter Registration Day, we are helping our community register to vote and get to the polls on November 6th," Instagram said in a statement on Sept. 18. "We're excited to help our community participate in the upcoming election." One way they're doing this is through the "I Voted" virtual stickers that users can take advantage of when posting their obligatory just-voted selfies.
The sticker will appear on the IG camera when users take those selfies, and when clicked, will prompt users who haven't yet done so to Get to the Polls, and a resource will add polling place info based on location. So by using the new IG sticker, not only are users encouraging their community to vote simply by posting about it — they'll be helping their fellow voters find info to help them do the same. It's a win-win, right? You look super cool having just fulfilled your civic duty, and you help out your friends (and also democracy). What's not to love?
For any naysayers wondering if sharing a social media sticker actually makes any difference encourage other users to get to the polls: It looks like it does. In fact, Facebook has been experimenting with the digital stickers for several years now, and findings from an experiment around the 2010 midterms found that the "I Voted" sticker model helped influence other voters in people's feeds to get to the polls themselves — in fact, about 340,000 more people voted because of this, according to Facebook.
The company has also partnered with TurboVote to boost registration and turnout. As part of the campaign, Instagram's rolling out features to help voters find quick-and-easy info on where and when they can vote and how to register themselves to vote if they haven't already. Per U.S. federal voting age requirements, users 18 and older will automatically see ads appear in their Feed that encourages voting, and prompts you to register to vote with nothing more than a swipe.
Facebook is also rolling out tools to help their users get info on candidates, registration, and polling info to make the process as easy as possible. So if you're into civic engagement and supporting efforts to vote, keep an eye out for using your favorite social media platforms this fall as a great way to promote the vote without having to lift a finger (well, almost.)
And for the go-getter voters out there, you don't have to wait until Nov. 6 to cast your ballot. There are several states that are already seeing the first mail-in ballots trickling in, so if you want to check that item off your to-do list early, you can earn yourself that much-deserved IG sticker sooner rather than later. And the more the merrier! So when it comes to encouraging your fellow Americans to hit the polls with your new IG sticker, remember: Sharing is caring.