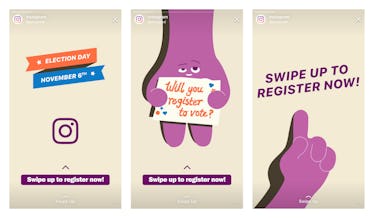 Instagram Is Making It So Easy To Register To Vote In The 2018 Midterm Elections
Overall, my mom is a very patient woman — she always has been. If she finds out that you haven't registered to vote, however, things will probably get ugly. "Voting is a right of passage," she says. "It's what we, as Americans, fought for, in order to achieve independence. If you don't do it, you aren't fulfilling your duties as a citizen." Instagram seems to agree with my mom's values, though, because it's now encouraging users to register with a patriotic new feature. So, if you aren't already registered to vote, here's how to use Instagram and TurboVote's voter registration feature to get ready for November. Do it for the sake of the United States... and so my mom doesn't get really "disappointed" in you.
In honor of National Voter Registration Day, Instagram is lending a hand to the community by getting people ready to hit the polling booths on Nov. 6. According to a press release, Instagram has partnered with TurboVote to connect U.S. voters with everything they need to know about voting. Since starting on Tuesday, Sept. 18, the photo-sharing app is informing users how to get themselves registered and how to update voting information, and it's providing any and all local voting rules. To locate this glorious new feature, just look for the ads for it in your Feed and through Stories. When you see them pop up, all you'll need to do is swipe up for more information to find everything you need to know. According to Instagram, Instagram users aged 18 and older in the United States will see the ad on their app, and there is no update needed to use it. See? I told you, it's literally that easy. Instagram is getting super involved with the community and, TBH, I love it.
After noticing that Instagram users also love sharing the fact that they voted with their friends and family, according to the press release, the app has also created an "I voted" sticker for any and all "I voted" selfies you may decide to send out. In the event that any of your followers have not yet registered to vote this year, they can tap the sticker, which will link to Get to the Polls. From there, it will guide any unsure users to their local voting booths on Election Day. The chances that my mom will disapprove of your registration status this year will be very slim, because all the information is pretty much laid out in front of you this time, all thanks to the one and only Instagram app.
Make sure you register to vote as soon as possible, though, because you don't have much time to do so before Election Day. The amount of time you have to register varies by state, but most don't allow day-of registration. Alabama's cut off, for example, is 15 days before Election Day, while other states, such as Florida and Hawaii, require 29 days in advance. Washington, D.C., on the other hand, is one of the only U.S. locations that allows voters to register day-of. Just in case, check your state's registration deadline before it's too late.
Voting is hella important, and thankfully, IG recognizes that. If you aren't sure how to register, check out the information IG has to offer. Once you do so, register ASAP. If you don't do it for the sake of the country, do it for my (very worried) mother.