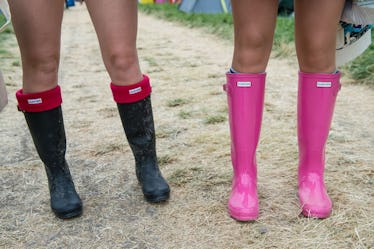 These Boots Are Total Dupes For Hunter Wellies & They're All Under $50
Ian Gavan/Getty Images Entertainment/Getty Images
Hunter rain boots are the coolest around, but they can cost a pretty penny. If you feel saddened by the recent sartorial letdown involving a certain bullseye-branded retailer, fear not. Inexpensive Hunter boot dupes exist, meaning you can still snag a pair of cool AF wellies that won't break the bank and will make you look fashion-forward, even on the rainiest of days. If you have no clue what I am referring to, I'll give you a quick refresh.
In March, Target announced they had teamed up with Hunter on a collection of affordable pieces that would include everything from footwear and ready-to-wear to bags and other accessories. The footwear category boasted one shiny offering in particular, being tall women's wellies, similar to those that have made Hunter the brand du jour for trendy rain shoes.
Supermodel Kate Moss first rendered the boots de rigueur when she wore them to Glastonbury Festival in 2005, and since then they've gone on to become a cool girl staple. What's more, they actually perform incredibly in the rain, snow, and the like, and have proven to be a super high quality product. The caveat, though, is that they typically retail for $150, which is why the Target collaboration, which ranges between $5-$80, was such an exciting prospect.
It was announced that the women's tall boots would retail for a mere $40, so when they were pulled entirely from the collection, which dropped on April 14, due to production issues, people were beyond bummed. "After thorough evaluation, we've decided not to make this item available," Mark Tritton, Target's chief merchandising officer, explained in a statement. "We're very sorry, but the production simply didn't meet our standards, Hunter's standards, or the standards we want guests to have when they shop at Target."
Sigh. It was too good to be true! While there's never a perfect replacement for a brandname signature, there are a lot of other really great wellies on the market that honestly rival Hunter in style and price. (The Hunter x Target collab. price, that is.) Below are eight dupes for $50 or less that will brighten up your day.
Two Tone
This pair of wellies boasts a color blocked design and patent sheen, rendering them a step above as far as rain boots go.
High Laces
I honestly love this pair of boots more than the average Hunter style! The dusty berry color is super unique, while the laces add a more designed touch. Their treads and shape are similar to those of Hunter boots-they're an excellent dupe.
Old Fashioned
If you're looking for a basic black boot that's a dead ringer for Hunter's tall boots, this is it. The style features a similar buckle detail on the side, mid-calf height, and thick treads.
Green With Envy
Hunter's olive boots are some of their most-loved. If you were hoping to snag a pair, try these instead.
Water Baby
Patent, sleek, and with a cool two-tone detail, these boots are just plain cute! I'd wear them with blue denim and a white tee for a simple rainy day look. Just don't forget a umbrella with that specific outfit...
Scaled Up
Another great option for a classic black style, these boots feature a textured snakeskin design.
It-Brit
This style is literally called the "British Girl Rainboot" so seeing as Hunter is a British brand, it's gotta be a pretty spot-on replacement. I love the patent finish and bubblegum hue. They would definitely brighten up a rainy day!
The Great Outdoors
No, this boot isn't similar to Hunter's tall boot style, but it was so cute I had to add it in. I love the jewel tone flower motif and clean, simple silhouette.