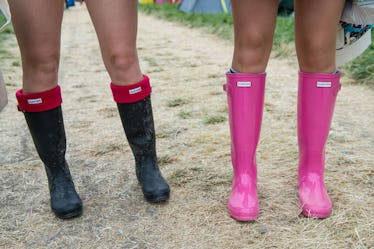 Target x Hunter Boots Canceled The $40 Wellies & The Internet Is Crying
Ian Gavan/Getty Images Entertainment/Getty Images
It's a sad, sad time for those in the market for a new pair of wellies, as one of the most anticipated footwear launches of the season has announced a major hiccup. According to the retailer, Hunter x Target boots are canceled due to production issues, meaning those cult-favorite rubber shoes you couldn't wait to cop at a staggeringly low price are no more.
In March, Target announced its collaboration with Hunter and fans went absolutely nuts. Hunter is known for creating the cult-favorite wellies beloved by Kate Moss and beyond (they are the optimal rainy festival footwear) but considering the tall style typically retails for $150, they're not exactly the cheapest of boots. (I remember saving up for a pair while in college and while it took awhile, it was totally worth it.) So when Target revealed that the similar collaboration style would be offered for a mere $40, people couldn't wait to shop them.
When the collection — which includes a range of ready-to-wear, bags, lifestyle items, and footwear styles for men, women, and children — dropped on April 14 and was missing the tall boot style, people began to scratch their heads. Target quickly announced that the boots were delayed due to production issues and ensured they would be available shortly.
But earlier this week, Target released a statement announcing that the boots have been removed from the collection completely. "Last week, we announced that the women's tall rain boots Target produced for the Hunter for Target collaboration were delayed," read the statement. "We had been made aware of some production issues with the boot we created for this limited-edition collection, and wanted to take the time necessary to ensure we were offering our guests a great product at an exceptional value."
"After thorough evaluation, we've decided not to make this item available," continued Mark Tritton, Target's chief merchandising officer. "We're very sorry, but the production simply didn't meet our standards, Hunter's standards, or the standards we want guests to have when they shop at Target." Naturally, the internet had some feelings about this, with many disgruntled customers taking to Twitter to express their frustrations:
Yes, this is a huge bummer, but it's also fair for a retailer to not want to put subpar products on its shelves. Ultimately, it saves customers (us) from buying low-quality items, so this decision is actually in our best interests. I, for one, wouldn't want to buy a new pair of wellies only to discover that they don't protect my feet from water or fit poorly. The release also states that Target is working with a third party to recycle the already produced boots, meaning they won't totally go to waste. At least there's that!
Don't let this news rain on your parade too much, though. All men's and children's footwear styles from the collaboration are available and two footwear styles from the women's collection can still be shopped as well. There's the Dipped Canvas High Top Sneakers ($40, Target), which look like they could weather any storm; and the Slide Sandals ($25, Target), which are poolside footwear at its finest. What's more, all of the clothing and accessories within the collection are also still largely in stock, so you can still get uber cool Hunter branded items at serious discounts.
Dipped Canvas High Top Sneakers, $40, Target
Target isn't taking this mishap lightly. Tritton signed off the release by saying, "To guests who were hoping to purchase these boots, and to our partners at Hunter who support Target's decision, thank you for your patience and, once more, we're sorry we let you down. We promise to do better next time."
If "next time" means "with our next Hunter collaboration," maybe our dreams will actually come true!