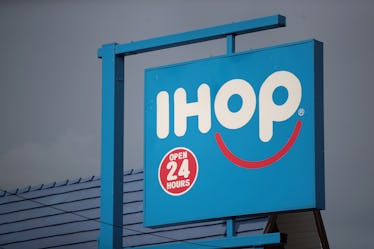 IHOP's "All You Can Eat" Pancake Deal Is Here & It Only Costs $3.99
Scott Olson/Getty Images News/Getty Images
So far, 2018 has graced us with a buttload of snow — and, soon, the highly-anticipated Winter Olympics. But just when we thought 2018 couldn't get any better, we realized that it actually can, because our number one pancake destination is presenting us with the breakfast bargain of our dreams. Allowing us to stuff ourselves with as much syrupy goodness as our hearts desire, IHOP's "All You Can Eat" Pancakes deal is comin' to town to kick off the new year.
The International House of Pancakes is once again gracing us with their annual deal of unlimited buttermilks from Jan. 2 to Feb. 11. According to an online press release, IHOP restaurants nationwide will be participating in the deal. Guests can kick off their grand feast with continuous stacks of five buttermilk beauties or a continuous short stack of two pancakes. Short stack combo orders come with eggs and hash browns, along with a choice of sausage, ham, or bacon. This glorious AF $3.99 offer is limited to each individual guest. However, you should definitely check ahead that your nearest location is participating in the deal... to potentially avoid any sticky disappointment or pancakeless despair.
Brad Haley, the chief marketing officer at IHOP, is basically just as excited for unlimited pancakes as we are. Because honestly, what's better than stuffing yourself with endless amounts of buttermilks for just $4? The answer is... there's absolutely nothing better than that. Haley said in the press release,
There's no better way to celebrate the start of our 60th year in business than by offering our guests stacks and stacks of our world-famous Buttermilk pancakes at a great price. Golden, fresh-off-the-griddle Original pancakes are the main reason why the International House of Pancakes has stood the test of time and grown to become one of America's largest Family Dining restaurant chains. So, as a big thank you to all of our guests, we're offering as many of our signature menu item as you can eat for just $3.99. It's kind of a birthday present for everyone to kick-off 2018!
Maybe #pancakeporn isn't your pick of poison, and a savory feast might be more up your alley. And that's totally OK, we'll still accept you for who you are. So, if flapjacks aren't quite your vibe, but if a fantastic amount of food for an unbeatable price is, taking a trip to Applebee's might be the right move for you.
On Jan. 1, Applebee's launched their all-you-can-eat deal, which is, like, extremely enticing. Their $12.99 deal includes endless platters of riblets and/or crispy AF chicken tenders, with an unlimited supply of french fries, a side of coleslaw, and even a choice of dipping sauces. Riblets come with a choice of honey barbecue or spicy Texas barbecue sauce, and tenders come with the option of honey Dijon mustard, or with a classic side of ketchup. So praise Applebee's for also blessing us with this gorgeous and delicious godsend to kick off this positively tasty new year.
Beginning 2018 with unlimited pancakes is honestly the best way to start the year, and we can't thank IHOP enough for having our backs on this one. Whether you're planning on indulging in a tall stack, a short stack, or even plates on plates of riblets, chicken tenders, and french fries, unlimited food for an incredible deal is honestly the perfect way to start 2018. So if that isn't what you consider to be a good new year omen, I seriously don't know what is.
Check out the entire Gen Why series and other videos on Facebook and the Bustle app across Apple TV, Roku, and Amazon Fire TV.