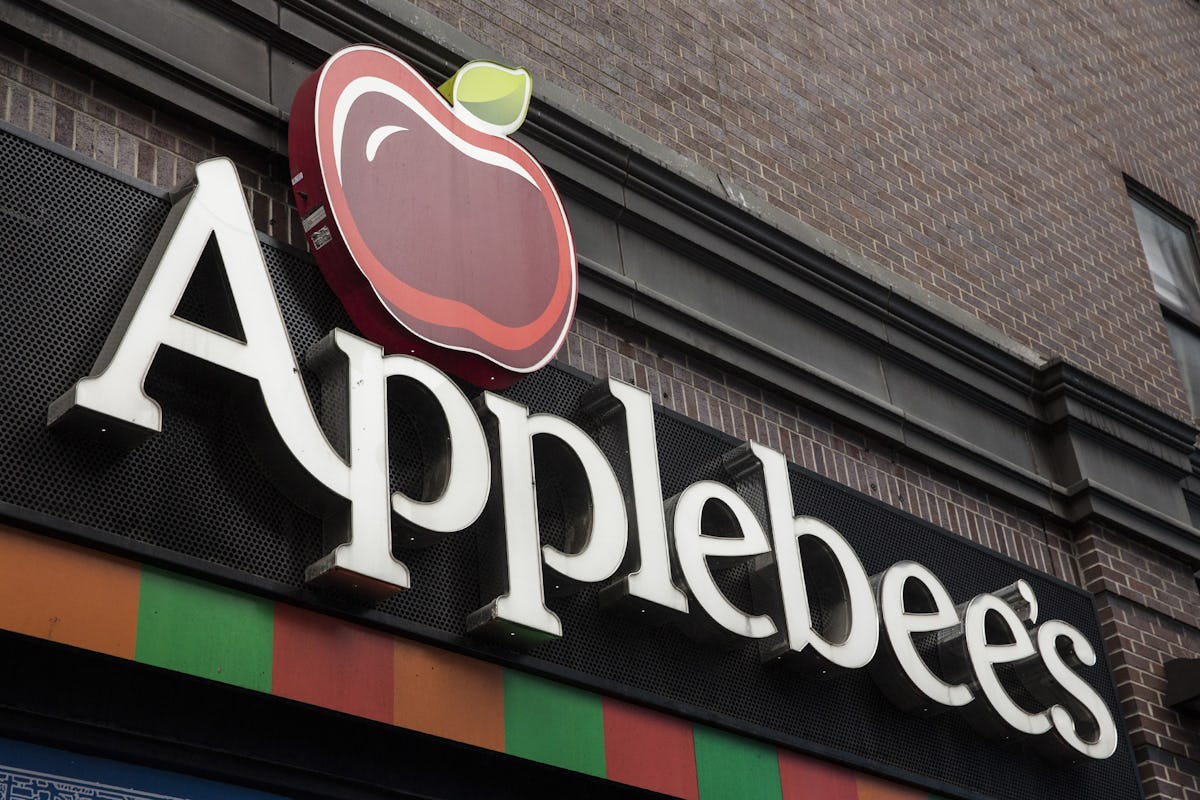 Applebees Is Offering All-You-Can-Eat Riblets For $13 & Twitter Is So Hungry
Andrew Burton/Getty Images News/Getty Images
No matter how you spent this holiday season, there's a good chance that it left you a little worn out and ready for endless Netflix marathons on the couch. While that sounds cozy (and amazing), you're going to need to get your grub on at some point. Instead of ordering in for the fifth day in a row, you could treat yourself to a dinner special that one restaurant is offering this month. If you need a little more incentive, you can see just how excited people are about the delicious treat when you read these tweets about Applebee's $13 all-you-can-eat riblet deal.
The restaurant chain announced the deal on their Twitter page on Monday, Jan. 1, and it's exactly what it sounds like. When you order Applebee's all-you-can-eat deal, you'll get endless platters of riblets or chicken tenders (or both!) along with a never-ending supply of french fries — all for $12.99. Oh, you'll also get a side of cole slaw, but there's no free refills on that part of the menu.
This is no flimsy deal, either, because you'll also get your choice of dipping sauces (meals without sauce are just not real meals, agreed?). You can slather your riblets in either honey barbecue or spicy Texas barbecue sauce, and your chicken tender dipping needs will be met with a honey Dijon mustard sauce.
Check out the Twitter announcement of the tasty deal.
Applebee's fans everywhere were excited to hear about the all-you-can-eat deal, and they took to Twitter to show their appreciation.
At first the deal seemed almost too good to be true.
"...$12.99 all you can eat tenders & fries???"
Very important PSAs were created for fellow chicken tender fans.
It was complete with a heart-eyed emoji to really show the love, of course.
This Applebee's customer has been waiting for the glorious return of the riblets.
"I stopped going when these went away."
The excitement was eclipsed by one pressing question, "But is this for a limited time?"
People need to know.
All caps and two exclamation points are enough to convince me it's a good thing.
While this is an admittedly fantastic deal, the commercial touting the return of the all-you-can-eat riblets is almost just as good — and there is a good chance that it will stoke your craving for riblets, too.
Check out the ad featuring Céline Dion's "It's All Coming Back to Me Now."
Hey, sometimes only Céline Dion can express your true elation for the all-you-can-eat riblets and tenders deal.
It might make you hungry, or it might leave you "SHOOK."
Or maybe, both?
Go for the commercial, and stay for the riblets.
Anything that gets three fire emojis is good in my book.
The commercial is really getting people into the booths at Applebee's.
"Must attend this gathering ASAP."
People are having a tough time containing their excitement.
Can you really blame them, though? The deal is sure to please even the pickiest eater in your squad. I mean, you can choose from riblets or tenders, and don't forget that the refills on fries are also never-ending. If you're over 21, you can also partake in the $2 Blue Moon beer special Applebee's is offering to wash down the endless riblets. Two bucks will get you a ten-ounce draft of the cold stuff.
Applebee's is quite familiar with the good old drink deal. You'll recall that the restaurant offered $1 Long Island Iced Teas all throughout the holiday season. Man, Applebee's sure knows how to party, huh?
Of course, drink deals aren't required to partake in the all-you-can-eat riblets and tenders meal, so grab your best dining pal (and $13 bucks), and head on over to Applebee's to start the new year off in delicious style.
Check out the entire Gen Why series and other videos on Facebook and the Bustle app across Apple TV, Roku, and Amazon Fire TV.