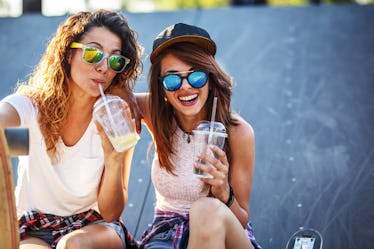 If You're Still Besties With Your Freshman Year Roomie, These 10 Things Are True
Sure, college was an amazing time in your life that you still cherish, but let's get real: Freshman year was a major transition. You met so many new people, adjusted to campus life, and juggled a ton of classes. It was very lucky for you if you hit the roomie jackpot and found a forever friend on the first day on campus. You felt blessed for getting someone you not only considered a great roommate, but a bestie. If you're still friends with your freshman year roomie, it's safe to say you've locked down a friend for life.
There are a lot of cherished memories I have from my first year of college, and most of them include my roomie. As an awkward AF person, I loved having someone to go to every welcome week event with, and she saved me from having to eat breakfast alone in the dining room every day. Spending so much time together, we formed a friendship bond that would be hard to duplicate. If this is all too familiar for you, you know that a freshmen roomie like that is something to cherish. These 10 reasons are why she's your forever friend, so hug her tight.