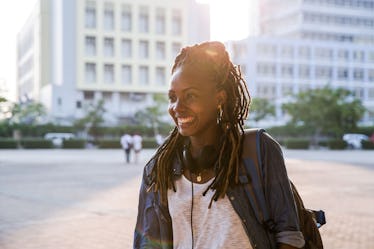 5 Reasons Fall Semester Is The Ultimate Time To Live Your Best Single Life
In college, fall semester always feels like an opportunity for a fresh start — whether you're a wide-eyed freshman, a cynical senior, or somewhere in between. It's like the fallen leaves crunching under your feet and the crisp autumn air are quietly encouraging you to make a major change. You set goals, like procrastinating less or socializing more. The onset of cuddle weather also means your classmates are going to start coupling up, and you might be tempted to start a new relationship sooner rather than later. But the truth is, being single during fall semester is highly underrated. Instead of settling down with someone right away, consider taking this time to enjoy your independence, explore your options, and embrace your freedom.
You're pretty much guaranteed to learn valuable lessons about love, sex, and dating during your time in school. You'll experiment and discover what you like and dislike. You'll experience heartbreak. You may fall in love. But you have your whole life to find the one. You don't need to plan your future just yet. College is the best time in your life to be single and dating. It's the one time in your life where you have seemingly endless dating options and opportunities — and the time to actually take advantage of them. Here are five reasons why your fall semester of college is the ultimate time to embrace the single life.