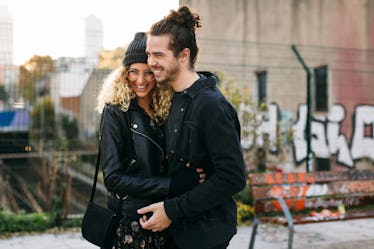 If You're Ready To Move To Be Closer To Your Partner, You'll Notice These 5 Things
In any long-distance relationship, there usually comes a time when you get fed up with all the back and forth flights and FaceTiming, and consider moving to be closer to each other. And why wouldn't you? While thoughtful texts, epic phone calls, and passion-packed visits may have been fun for a while, missing your boo madly can start to get old. But how can you know you're ready to move to be closer to your partner? Are there any signs that can suggest it's time to make this life-changing decision?
For one of my best friends, Samantha, it wasn't so obvious. After a long, brutal year of bi-coastal travel for and her boyfriend, who had moved from Boston to Oregon, the two decided they'd had enough. We threw her an epic going away party, she found a subletter for her apartment, and she flew out to the West Coast. Less than three months later, she was back in Boston. When I asked her about this blip over a couple beers, she said, "I jumped the gun. I was so tired of going months without seeing him. But I wasn't really prepared to move in together in a city I don't know." Now, Samantha happily lives in a studio apartment in Portland with her bae. But the first time around, she simply wasn't ready.
So, how does one know they are ready? According to Dr. Gary Brown, a prominent dating and relationship therapist in Los Angeles, here are a few common signs that it's time to close the distance.