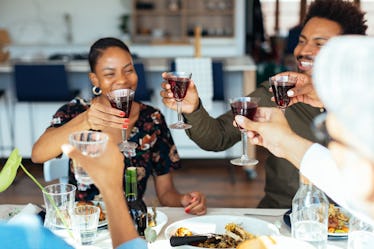 Experts Say You'll Notice These 4 Things When It's Time For Bae To Meet Your Parents
There are a lot of big watershed steps you'll probably take over the course of your relationship — like the first time you have sex, when you move in together, and when you get over your first fight. These are all really big moments, but, for the most part, they'll really just involve the two of you (you and your partner). However, there's another big step in the relationship that unavoidably involves other people — very invested and likely opinionated people. I'm talking about introducing your partner to you family. You'll need to be sure you're ready to introduce your partner to your parents before you take that leap, but also that your partner is ready to go there, too.
Fortunately, this is a situation you don't have go into blindly. There are signs you can look out for that indicate the time is right. According to experts, the signs can be subtle, but you can still identify them if you look closely. It all comes down to how serious you are about the relationship and determining when enmeshing your partner with the people you love most just feels natural. So, if you suspect you're ready but you're not sure, here is how the experts say you'll know it's time to bring your partner home and introduce them to your family.