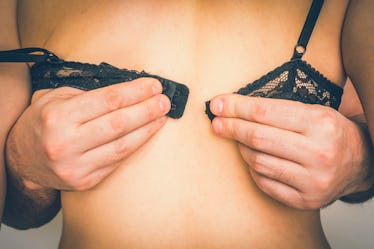 5 Things You'll Notice About Yourself When You're Ready To Have Sex For The First Time
There is a lot of outside messaging, social pressure, and plenty of opinionated people who are more than happy to tell you whether or not you're not ready to have sex. But that decision is yours to make. So, if you're wondering whether the time is right and you're ready to have sex for the first time, you'll know by looking within for the signs that it's the right decision for you. Because, let's be honest, this is a big one.
How do you know if you're ready? Is there an age where you should automatically be good to go? Dr. Fran Walfish, Beverly Hills family and relationship psychotherapist and author of The Self-Aware Parent, tells Elite Daily that it's a lot more complicated — and, yet, simpler than that. "Sexual intercourse readiness has no defined age," she says. "The 'right' age should correlate to the individual's emotional readiness and previous demonstration of responsible behavior." OK, but what does that mean? How do you know if you're emotionally prepared and responsible enough to take the sexual plunge? Are there things you'll notice about yourself when the time is right? To answer that question, I reached out to the experts to learn what to be on the lookout for that means you're ready for sex. That way, you can take all the guessing out of whether or not the time is right. Here's what they had to say.