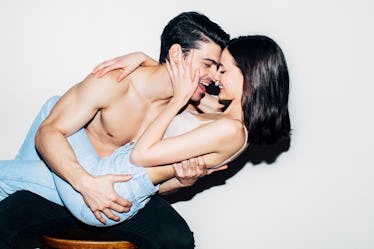 3 Ways To Know You're Ready To Have Sex With Someone For The First Time
When you start dating someone and there is strong chemistry, it's really easy to just hook up right away — and there is nothing wrong with that if you're ready to have sex with someone new. While some people have rules about not having having sex on the first date, or until they're in a committed relationship (or even until they're married), the reality is that the "right" time for you to sleep with someone new is when you decide it's right for you. But there is a difference between knowing that it's up to you and actually knowing that the time is right. Confusing? Yeah, and it can be even less straightforward, especially when hormones get involved.
What constitutes as "ready" can vary from person to person, so there are a few basic things you should consider before hopping into bed with that hottie. It's all about checking in with yourself to see how you are feeling about the person you're considering having sex with — and how they make you feel. Self-reflection may not sound like the sexiest thing in the heat of the moment, but it's an essential part of owning your own sexuality, and by doing so it also frees you up to be in the moment when it really counts and just enjoy the experience. Sounds great, right? Here are the ways the experts say you'll know you're ready to have sex with someone new.