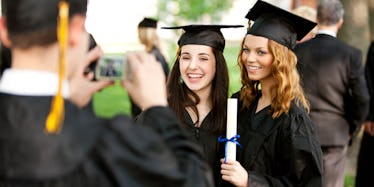 Consider This If You Want To Get Engaged Around The Time You Graduate College
College graduation day is probably one of the most monumental days of your life. You've worked your entire academic career – from, what, four or five years old? – to receive your diploma, so that's around 17 years of build-up, dedication, and drive. The day you walk across the stage in your robes is all about you and your academic success. If your significant other were to propose on graduation day, it may make the occasion more about them and your relationship, and less about all you've worked toward, academically.
I spoke to a young woman who actually experienced having her significant other propose to her shortly before she graduated from college last year. I learned about the good, the bad, and the ugly, and what her advice is for any other future fiancés or fiancées out there considering doing the same for their partner. For some, it can be the pinnacle of romance – reaching academic success and also being asked to be someone's life partner. But, for others, it can seem selfish and all-around bad timing due to already having to deal with other stressors, like hosting family, attending graduation parties, and finding a job. Here's what this one woman had to say about her proposal, and what you should know about what a near-graduation day proposal is really like.
Quincy, 22, and her boyfriend had known each other for seven years when he proposed to her on a beach in Cape Cod in 2017 while on vacation with his family. He popped the question a month before Quincy finished college.
"We just knew that this timing made sense for us," Quincy tells Elite Daily. "We did long-distance for a long time and didn't want to commit to living in the same place until we were committed to marriage." She adds, "Graduation was a natural benchmark for us in terms of engagement."
Quincy felt like the timing worked out for her and her fiancé, but looking back, thinks that "graduating, getting engaged, moving in together after years of long distance, and starting [her] first full-time job" were a lot to happen at once.
And now, a year after getting engaged, she can reflect a little bit on how it's affected her life outside of her relationship, too. She feels since she now is at a different step in her life than her friends and peers, it can be hard to relate to them and feels distanced.
But, she now has a strong life partner in her fiancé.
"We're accountable to each other for the decisions we make," Quincy says. "If he wants to find a new job or I want to redecorate the bedroom, those decisions affect the other person and so we have to be considerate."
Even though there was a sudden and massive onslaught of life changes happening at that moment in time for Quincy, she appreciated the low-key proposal, and said it was very much "us."
"I wish I'd been able to space everything out a bit more," she admits. "I can't say I would change any of it though! They all happened when they did for a reason, and I'm just grateful that we had such a strong support system through it all."
If your partner is considering a near-graduation proposal, I suggest they confirm that the timing of it is right for you. While it is convenient that your family will likely be in town for your graduation ceremony, you may be dealing with too much else at the moment to add another (albeit, exciting!) stepping stone to the table. Whenever that engagement does happen for you, it should be just right.