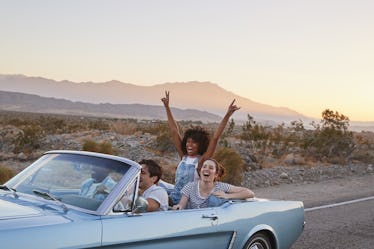 If You're Not A Beach Person, Consider These 5 Alternative Vacays That Are Just As Fun
As a gal who was born and raised in Central Florida right next to the Gulf of Mexico, I'm definitely biased and the first person to declare that a summer without a trip to the beach is a summer done wrong. There's nothing quite like salty hair, having your toes in the sand, and rocking a fresh new swimsuit. But if you're not a beach person, there are still a ton of places you can vacation during the summer that will give you amazing memories and, of course, pretty epic pics for the 'Gram.
The U.S. is filled with destinations that aren't near (or super close) to the beach, but are still fantastic summer vacation spots. Portland, Oregon is a foodie heaven with plenty of outdoorsy activities in the mountains to participate in, while Scottsdale, Arizona is the perfect place to plan your desert spa retreat. (And who doesn't want a picture with a giant cactus?)
It just so happens that this list contains seven of my favorite destinations in the country, and if I — a Florida girl with a never-ending love for the beach — can hop on board with making these places summer vacay hotspots, you definitely can, too. If you're thinking of planning a memorable summer getaway but want to skip the beach, try heading to these places instead.