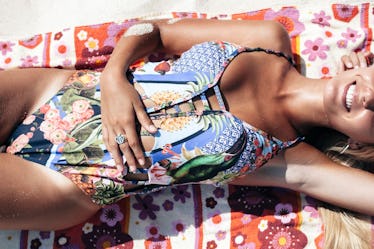 6 Struggles Millennials Face Going To The Beach Alone, Because Your Towel & The Wind Just Don't Get Along
Going to the beach in the summer is an absolute must. Even if you only go once, I believe that having yourself a beach day at some point over the summer should be mandatory. What's not to love about it? You can get a little sun, enjoy the effects of salty ocean water in your hair, wear a cute straw hat, and take in the serenity of a relaxing day spent in the sand. Going with your friends always makes for a fun time, but having a solo beach day can also be exactly what you need, even if there are some struggles of going to the beach alone.
I'm a huge advocate for solo beach trips. In fact, I do it as much as I can. I love the freedom of being at the beach by myself, with the wind blowing through my hair, a few podcasts downloaded to my phone, and not a care in the world. Going to the beach by myself is actually one of my favorite things to do, but there are definitely some struggles that come along with it. There's no one to help you lay out your towel when it's a tad windy, and you have to struggle to spray your own back with sunscreen.
Regardless of these #strugs, I still can't recommend solo beach trips enough, and I think everyone should add one to their to-do list for this summer.