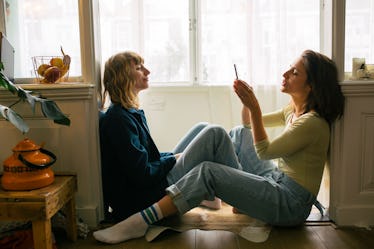 Your Ultimate Guide To Moving in Together In The Fall
Ivo De Bruijn, Stocksy
Moving in together can be a thrilling time in any relationship, because you're taking the next step in sharing a life with your partner. Whether you've lived with a partner before or not, you'll need to be ready for some changes. Suddenly, your toilet paper isn't just your toilet paper anymore, and that's something you'll have to adjust to. If your lease expires over the summer and you've set a move-in date, it may be time to start preparing yourself for moving in together in the fall.
Fall is a time of change: The leaves change colors, kids go back to school, and you hang your bikini up for another year (except for impromptu indoor pool parties, obviously). Fall can also be an incredible time of transition, and moving in with a partner symbolizes a transition in the relationship. You'll experience the joy of convenience when you no longer have to wonder where you toothbrush is, but you'll also have to adjust to sharing parts of your life you haven't before. Also, you'll join forces in taking care of a home together (#adulting much?), and these challenges can bring you closer together.
Read on to find out everything you need to know about moving in together in autumn!