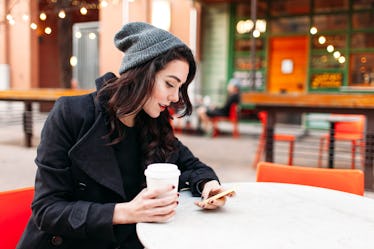 What To Say On A Dating App If You Want To Be Up Front About Looking For A Cuff
Cuffing season is a colloquial term for the phenomenon that takes place during the fall and winter months, in which people who usually prefer to be single feel the need to be tied down. Cuddle weather — aka low temperatures — leads to an increased desire to be in a committed relationship, if only so you have someone to keep you warm. At this point, cuffing season is well underway, meaning there isn't tons of time left if you're looking for a cuff. If you're still determined to couple up this winter, dating apps are going to be your best bet. You can easily swipe through your options and quickly assess whether someone has the potential to be your new beau.
Once you match with a prospective partner, you'll need to evaluate whether or not they're looking for the same thing as you. Rather than dance around the subject, you should get right to the point. Sending flirty GIFs back and forth will only get you so far. Eventually you'll have to address your expectations, so why not get it out of the way before you become unnecessarily invested? In order to more effectively weed through your prospects, you should know what you want before you send your first message. Then, choose your opening lines wisely. If you're unsure of how to convey what you want from the get-go, I've come up with nine opening messages based on the level of commitment you're looking for. Use any of these on your next match, and you'll be cuffed in no time.
If you're looking for an actual relationship:
The key to success here is to be honest and assertive, without coming off as aggressive.
Hey! I'm looking for something serious. If you are too, I'd love to meet for coffee."
This straightforward opening line lets your match know you're in search of more than a hookup. It puts the ball in their court — they can choose to accept your offer, or tell you they want something strictly casual.
I like that sweater! Is it boyfriend material?"
This message is cute and just the right amount of cheesy. It suggests you're looking for a relationship, while opening up the conversation to the possibility of flirty banter. If they respond positively, you can follow up by saying: "I'd love to borrow it… Or you can keep me warm instead."
Are you bringing your dog on our first date?"
If the person's pet makes an appearance in their photos or bio, show them you're paying attention (and that you want to actually date). Opening with a message related to your match's profile is so much more memorable than just saying "hey." And everyone loves talking about themselves, so they're likely to respond.
If you're looking for something casual:
If cuffing season has you feeling frisky, you may prefer a friend with benefits over a boyfriend or girlfriend. Get your point across with these blatant pick-up lines.
Baby, it's cold outside, but I'll only kiss you if you give consent."
Quoting a weather-appropriate hookup song is a good start. Take it to the next level by addressing the problematic lyrics in a flirtatious way. Hopefully you'll find a feminist who's down to get cozy under the blankets.
I'm trying to avoid getting a winter bod… Want to get physical with me?"
There's sending a message and then there's sending a message. I think this line speaks for itself.
Come over so we can pretend to watch a movie and make out instead."
This line makes it pretty clear that you're not looking for a relationship. If your match agrees, you may have found exactly what you need to get through this winter.
If you're open to either:
When you meet someone on a dating app, it's normal to wonder if you'll click IRL. Depending on the person, you might be fine with a regular hookup, but you also wouldn't mind if it turned into something more. These lines are direct, without indicating which situation you'd prefer.
You could have my heart or we could share it like the last slice."
This classic Drake lyric from "Best I Ever Had" pretty much sums you up. You're open to seeing where things go, as long as there's pizza involved.
Want to start watching Game of Thrones with me?"
Vowing to watch Game of Thrones shouldn't be taken lightly. If your match agrees to start from episode one, you might just have a future together. And if all goes well, winter won't be the only thing coming.
My New Year's resolution is to go out with more [blondes/brunettes/redheads]."
Joking around shows that you're not afraid to have fun. Plus, asking the person out this way is vague enough that they shouldn't form any expectations.
Be brave enough to send the first message this cuffing season. You won't regret taking a chance.
Check out the entire Gen Why series and other videos on Facebook and the Bustle app across Apple TV, Roku, and Amazon Fire TV.
Check out the "Best of Elite Daily" stream in the Bustle App for more stories just like this!