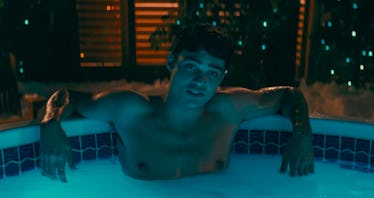 If You're Hopelessly In Love With Peter Kavinsky, These 8 Things Are So Relatable
Well, it's official: If you've watched Netflix's To All The Boy I've Loved Before, you're probably crushing hard on Peter Kavinsky right about now. If I was a teen back in high school, I know there would be a doodle (or two) of "I heart Peter K" in my notebook. From seeing everyone post on social media, I'm not alone. If you're in love with Peter Kavinsky too, I'm sure you've watched the movie at least a dozen times. With each viewing, you keep wishing you could be Lara Jean in a fake (and real) relationship with him.
There's just something so charming about Peter K, and of course a lot of it has to do with the talented actor who plays him, Noah Centineo. He's likely your real-life celeb crush now as well. His smirk just melts your heart, and you've probably been keeping up with his Instagram stories on the reg. (But I digress.)
Real talk: You are a proud member of the "I love Peter Kavinsky" fan club. Every member can relate to these eight things that just make Peter K the perfect dude to be crushing on hardcore. I would totally write a love letter to him, but unlike LJ, I would send it right away. Until then, I guess I'll just be watching the movie again and again, because you know, the heart wants what the heart wants.