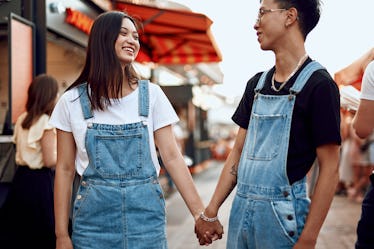 9 Things To Remember If You're In Love But Nervous To Commit
Shutterstock
Whether you struggle to pick an ice cream flavor and then second-guess your choice as your side-eye everyone else's cone or you've been looking at two different pairs of white ankle booties for a month and literally can't decide which ones you want, commitment issues come in all shapes and sizes. So when it comes to dating, if you're in love but nervous to commit, you're totally not alone.
If you've just been through a gnarly breakup or you've never had a long-term relationship, deciding you want to go the distance with a boo can feel like venturing into uncharted territory. Whether you're not sure that you're ready to settle down or you're scared to get your heart broken, the prospect of building something serious with someone can be seriously scary. Of course, no matter how in love you are, feeling some commitment-jitters as your relationship progresses is completely normal. Building a committed relationship with someone means opening your heart and taking healthy risks. And though love is a beautiful thing, the vulnerability can be intimidating!
Here are nine things to remember if you're totally into your boo but feeling a bit nervous to fully commit.