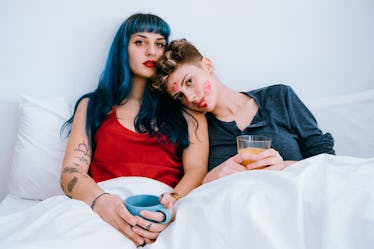 If You're Going To Start Dating Seriously, Remember These 4 Things
There may come a time in your life when the proverbial rain clouds split and sun shines down upon you. Suddenly, you know what you want and are ready to pursue it with all of your efforts. This can happen within any realm of your life (i.e. personal, professional, physical, spiritual) and when it happens, it's hard to ignore. If you have sudden clarity about what you want in your romantic life, it can feel intimidating to decide that you are going to start dating seriously. It's a pretty freaking brave and vulnerable move that you should be proud of for even considering!
To make sure that you don't get discouraged from the jump, there are certain things to keep in mind. To protect yourself, and foster positivity surrounding finding love, it can help to practice self-love, measure your expectations about the dating world, and consider doing intentional things that make you feel excited about finding love.
Consulting with other people in your life can help as well. You can start by telling your friends that you're ready to date seriously, or mention it to your therapist, and talk through your feelings about it, if you feel comfortable. If you want to take it a step further, you could ask your friends to set you up with someone or even consider seeing a palm or tarot reader for some potential insight.
If you're ready to put yourself out there for something serious, remember the following mantras.