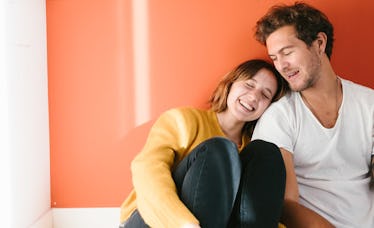 7 Brutally Honest Phases Of Developing Feelings For Your Hookup Buddy
There are plenty of reasons to hook up with a person. You might hook up with a person because you're horny. Fun! You might hook up with a person because they're super hilarious, or because they're slide-off-your-chair hot. You might hook up because you're moving soon, and you don't want to get into anything serious. You might hook up with someone because they're moving soon, and they don't want anything serious. It's all fun and games until someone catches feels. If you've ever done the whole falling for your hookup buddy thing, you know how brutal it can be.
The problem with the term "hookup buddy" is that usually, while you're definitely hooking up, you're never really buddies. Because most of us don't hookup with our buddies — or, as I prefer to call them, friends — and if we do hookup with a buddy, that usually complicates the whole friendship part of said relationship. It's absolutely possible to desire and be satisfied with casual sex with the same person for a while, but if you like the sex and the personality, feelings usually develop. You feel them little by little, until eventually, the whole mutually agreed upon hookup is painful to participate in, because all you want is to marry your buddy and adopt little babies with them. Woof. Here are the seven brutal stages of catching feelings for your hookup buddy.