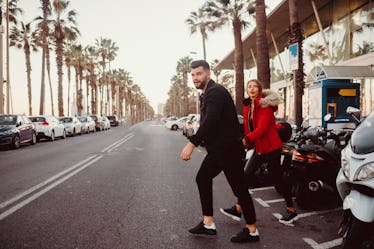 If You're Down For A Public Quickie, You May Be One Of These 4 Zodiac Signs
Are you a fan of public quickies? Hooking up in a stairwell or a bar bathroom? It's not everyone's idea of romantic, but you can't fault the convenience (and Ubers are expensive). Depending on my mood, I'm sometimes down for a public quickie. I just love the thrill of potentially being interrupted — it speeds everything up (and I mean everything). Besides, there are people who really don't fit into the decor of my apartment, and that doesn't mean I don't still want to sleep with them. Throw pillows just aren't for everyone.
The zodiac might have something to tell you about whether or not you like public quickies. Depending on your sign, you might find them odd or super fun (or, if you're like me, you might find them odd and fun at the same time, which is also how I feel about Coney Island — coincidence?). Could the answer to your public-quickie-questions be in the stars? Astrology can't predict the future, so you might be one of these signs and still not like having sex in public places, and that's totally fine.
Read on to find out if you're one of the four zodiac signs that like public quickies.