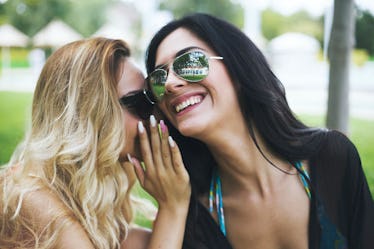 If You're The Actual Worst At Keeping Secrets, You Can Relate To These 8 Things
I really wish I could say you could trust me, but I have to be honest and let you know now, I'm the actual worst at keeping secrets. The struggle is all too real. If you're bad at keeping secrets, you can relate as well. There's just something about keeping all of that information bottled up inside that's asking me to do the impossible. I feel like a bottle of champagne someone decided to shake up, and I'm about to pop.
I like the concept of a secret. It's something that's supposed to be kept between two people, which is great and all, but I'd so much rather share adventures, clothes, and French fries with my bestie. When you tell me, "Don't say a word," you might as well be putting a giant red button in front of me, and telling me not to push it. (I'm going to push it.)
Maybe, those of us who are bad at keeping secrets just need to try harder. With time and practice, we could be really good at storing secrets and throwing away the key. It's a possibility, but until then, those of us will have to deal with these eight things that are all too relatable.