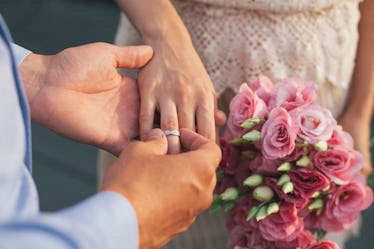 3 Ways To Deal With Jealousy If Your Younger Sister Gets Engaged Before You Do
From graduating high school to going off to college, if you're the baby of the family, you're probably used to being the last one of your siblings to cross major milestones when growing up. And if you're the oldest sibling, you've likely gotten comfortable being the first one to experience all the exciting achievements of coming of age. So if your younger sister gets engaged first, it's natural to feel a little envious. Yes, those initial pangs of jealousy will eventually dissipate to make room for feelings of excitement and joy. But in the meantime, if you can't help but be bummed out, know that you're not alone.
Not everyone wants to get engaged young, and some women don't wish to get married at all. If you are planning on getting married at some point, though, having your younger sister get engaged before you can be difficult to process. Of course you're going to be happy for her, but it's also OK if you need some time to sort through your more complicated emotions.
I spoke to real women who are going through this right now, and their honest insights might surprise you. Here's what two ladies have to say about how to deal when your younger sister gets engaged first. Heed their advice, and it will help you to get a handle on this tricky situation.