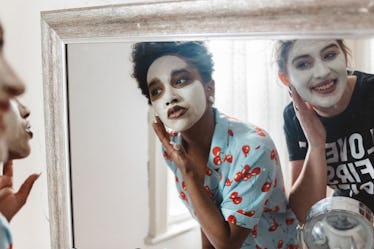 If Your Sister-In-Law Is More Like A Sister, This List Will Make You Say "Same"
When you think of someone who's like a sister, what do you envision? You probably imagine someone who totally gets you, and appreciates your quirks and corniest jokes. (Let's be honest: That meme was only kind of funny.) You also probably imagine that finding that person takes all the stars aligning just right. But, when all the pieces fall into place, it can be the most beautiful thing. Suddenly, you have a person in your life who you can consistently rely on, laugh with, and rave about on the reg. So, here's the scoop: If your sister-in-law is like a sister, you'll totally relate to all of these things and then some.
I guess you should start by thanking your sibling for bringing this person into you life. Without them, you wouldn't have someone sending you endless funny texts and memes all day long, or a family member who's basically your best friend. Without them, you might be sifting through your own clothes, bored with the same 'ole sweaters and T-shirts, and wouldn't know about the latest and greatest brands. (Your sister-in-law has really changed your life and your closet, huh?)
The truth is, she is just like a sister to you. She's the person you call when you have a question about your period symptoms, or want to grab a bite to eat somewhere. She's also the reason why you can say "same" to this entire list.