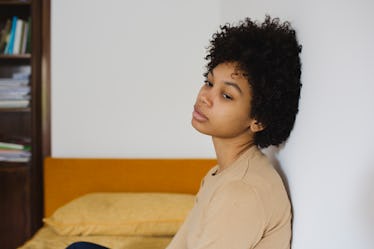 14 Best Texts To Send A Roomie Who's Going Through A Breakup & Needs Love
I live with two friends and a dog, and in the last year, all four of us have been through breakups (Yes, including the dog). From long-distance stress and infidelity, to a spooky Instagram username found too little too late — each breakup brought on its own stress and pain, and always seemed to come at the wrong time. Although the nitty-gritty parts of a breakup tend to vary, being supportive when your roommate is going through a breakup can be a constant. You live together. You know each other's guilty-pleasure music and movies. So, even if you don't realize it, you probably have some deep insight into their healing process.
If you're not totally besties with your roomie or you've been feeling some roommate tension of your own, you may feel a little confused about the best way to show your support. Whether you and your roomie have never been close or you were super close before living together and now you need some serious space, living situations can be tricky. Still, being supportive throughout the entirety a breakup can be a great practice, regardless of your relationship.
Here are 14 texts to send your roomie if they're going through a breakup and need a little TLC.