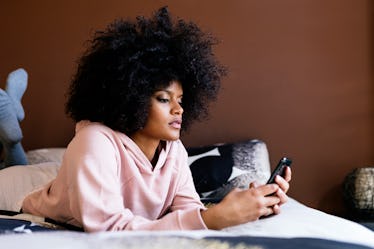 8 Texts To Send Your Crush After No Contact That Are Better Than "Sorry, Texted The Wrong Number!"
Oops meant to text someone else! Anyways, how are you? Yes, we all remember high school. It seemed so easy then, to totally and unabashedly accidentally-on-purpose text our crush something weird, just to get some response. When it's been a while, and your crush hasn't contacted you, it's easy to start to panic. Did they die? Did you miss a signal they were giving you that they weren't into it? Did you talk too much about why Ariana Grande is iconic? (Not possible!)
From asking about a their fave coffee spot to sending a subtle brag about a new promotion, there are tons of ways to reach out to a crush after no contact. Texting first can be daunting, but taking the reins and being in charge can feel really good, and honestly, is kinda hot. Whether you're a capital-A Alpha and a first text to a crush is NBD, or you're on the shyer side and need a Scorpion Bowl and a pack of besties to proofread before sending a "Hey" (with no punctuation) — we've come up with eight foolproof ways to reach out to a crush who hasn't contacted you that are better than, Sorry texted the wrong number!