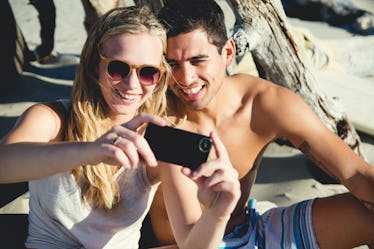 How To Ask Your Partner To Finally Post A Pic Of You On Instagram, Because Ugh
When you first start dating someone, there is a list of topics you should discuss regarding relationship boundaries: how much PDA you're each comfortable with, how often you should sleep over if they have roommates, and so on. In this day and age, though, there's one more conversation to add to the list — guidelines for posting about your relationship on social media. Because Instagram is such a big part of everyday life in 2018, it's important to address the proper etiquette. If you're worried about the fact that your significant other hasn't posted pictures of you on Instagram, you shouldn't be afraid to talk about it with them. But before you demand that they post a photo of the two of you to their feed, you should think about the reasons why you're so upset that they haven't.
I spoke to Bianca L. Rodriguez, Ed.M, LMFT, a licensed marriage and family therapist, about strategies for expressing your desire to be posted about on Instagram in a way that isn't accusatory or petty. There are plenty of valid reasons why your partner might want to keep your picture off of their Instagram page during the early stages of your relationship, so don't automatically assume it's a red flag. If you still want to ask your boyfriend or girlfriend why they haven't posted any pictures of you on Instagram, here's the right way to do it.