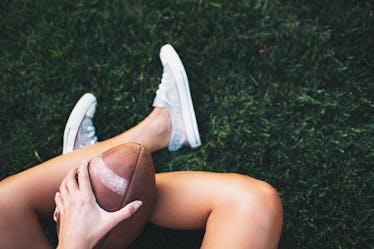 How To Avoid Awkwardness With Your Ex When You Return To School For Homecoming
Going back to your alma mater for homecoming can be a surprisingly emotional experience. You're revisiting the place where you learned so much about yourself. Seeing your ex at homecoming is an added stressor that you might be worried about this year. Whether you ended things on bad terms or you've become old friends, homecoming has a sneaky tendency to drum up nostalgia where you least expect it. If you're nervous about what to do when you see your ex at homecoming, try not to stress too much. I asked dating coach Erika Ettin and breakup expert Kate Galt about what someone should do in this situation, and their answers were seriously helpful.
Homecoming is about celebrating your old school and, by extension, your old life. Amid the weekend of festivities, there's time to reflect on the person you were when you were a student and the person you are now. Consider how much you have grown since college, and especially since your breakup. There are likely so many great things about the life you lead now, and focusing on those can help dial down the anxiety you might feel about facing your ex again.