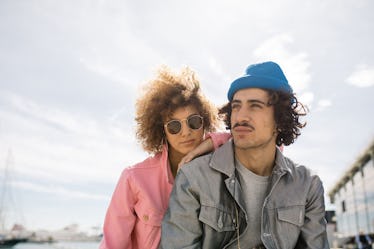 4 Reasons To Swipe Right On Your High School Crush, Even If Prom Is Long Over
Going home for the holidays can come with a lot of nostalgia. Some of that can be good, and some of the reminiscing can be not-so-good. High school memories can often seem to fall into the latter category. But what if I told you that it could be fun to swipe right on your old high school crush on Tinder? That's right, when you see that familiar face on your phone screen, I am here to recommend swiping right on them. This may sound weird, and you definitely don't have to swipe right if you're not on good terms with them. However, temporarily revisiting your past could teach you a lot about your present. Plus, holiday hookups with no-strings-attached can be a great way to let off some pent-up stress.
Whether you dated your crush, went to prom with them, or pined for them from a distance, seeing this person on Tinder this holiday season could send the butterflies in your stomach flapping away. It has definitely happened to me too. Long story short, I wasn't out as bisexual in high school, because I didn't really understand my sexuality at all. Because of this, there were a few girls that I had a crush on that I never told. A while back, I saw one of them on Tinder and I swiped right faster than you could say "mistletoe." We ended up matching, and it was super validating to realize that someone I liked a lot in high school liked me back. This is all to say that matching with a high school crush could have a lot of unexpected validation in store.
If you're not entirely convinced, don't worry. I sat down and came up with a list of reasons to swipe right on your former high school crush because temporarily revisiting your past could be pretty rewarding, and maybe even a little hot.