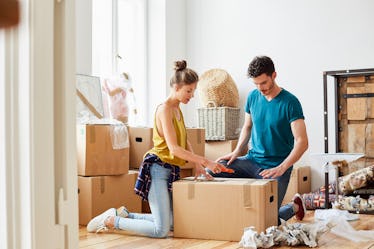 4 Fights That Are Totally Normal If You Move In Together Over The Summer
As thrilling as it may be, moving in with bae can also pose all kinds of potential challenges. How are you going to deal with having totally different morning routines? What if you struggle to set healthy boundaries? Will your sex life suffer? But if you move in together over the summer, there's a bevy of other things to potentially bicker about.
The heat certainly doesn't help. No one enjoys lugging heavy boxes around, but when you add in 90-degree temperatures, it's enough to make anyone irritable. Not only that, but summer is also peak moving season, which means it may be more difficult to find a moving company that's available. Etiquette and relationship expert April Masini points out that summer is also a busy time in general, between vacations, BBQs, weddings, etc., so it may be tough for you to coordinate your schedule with your boo and find a moving date that works. And there are a number of other possible inconveniences that could pop up on your actual moving day.
"If you live in a college town, students are moving in and out during the summer," Masini explains. "New grads are moving into new homes for new jobs. That means your apartment building elevator may be hogged with other movers, intersections will be jammed because moving trucks are double parked, and the cost of getting movers during a busy moving time goes up."
Certainly, moving in together during the summer does have its perks — for example, you won't have to worry about snowstorms, and you'll be more likely to explore your new 'hood in the warm weather. That said, here are a few common fights that are totally normal to have if you decide to become roomies between June and September.