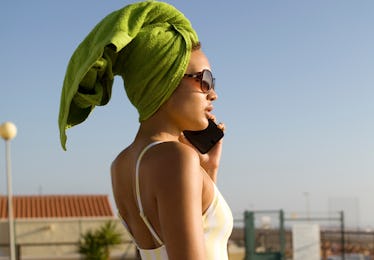 18 Texts To Send If You Miss Your Partner When You're Apart For The Summer
As all the characters in Grease will tell you, summer lovin' can be a blast. That is, of course, if you and your boo are remotely near each other. Whether you or your partner are interning in different cities, or going on traveling adventures with separate friend groups, it's not always easy to soak up the sun if you miss your partner when you're apart. Of course with today's technology, you and your partner can stay totally connected throughout the hot weeks of summer. From calling, to FaceTime, to sending little voice notes throughout the day, your phone can help you feel close to your boo all through the summer, even if you're physically far away.
From silly texts to sexy sexts — sending messages to your boo can be a great way to connect throughout the day when you and your love are parted by time and space. Sending a cute text when you miss your partner can be the perfect way to feel closer, and to express your feelings for them under the hot, summer sun.
Here are 18 sweet and sunny texts to send your partner when you're apart for the summer and you totally miss them.