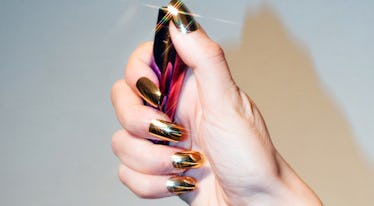 If You Have Long AF Nails, You Can Seriously Relate To These 6 Things
Everyone is born with a special gift or talent. Some people are double jointed, others can make a clover with their tongue, and some can wiggle their ears. While it might not be considered a necessarily amazing feat by some, people with long nails are also among the crowd of the talented. A lot of people find it difficult to grow and maintain long nails. If you're a person with long nails, you know this from all of the "ooohs" and "aahhhhs" you receive when people see your digits. And people with long nails can relate to so many things, because it's honestly such an incredible feature.
You can get long nails a few different ways, and if you can live in them on a daily basis, you're pretty flippin' talented. Some may say it doesn't seem sensible, but those people may just be experiencing a case of FOMO. Long nails are glam, they look good in any shape, and are super versatile when it comes to outfits. Unless you have a job that requires you to have shorter nails, why not give long nails a try?
If you're already in the long nail crew, you know these six things to be all too true.