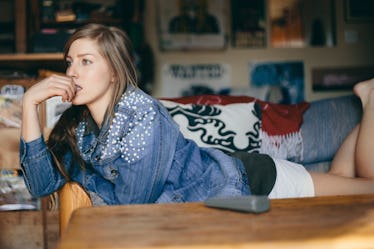 How To Stop Biting Your Nails With These 6 Easy Life Hacks
Yeah, I'm a nail-biter — a cuticle-biter, specifically, and it isn't cute. While I don't know that it's necessarily something I would identify as a chronic problem, it's frequent enough that it makes my nails look kind of like those of a nervous elementary school student. So, yeah, you could say learning how to stop biting my nails is on my to-do list.
As bad a habit as it is, I know for a fact I'm certainly not alone here. According to Psychology Today, research estimates that as many as 50 percent of adults bite their nails to some degree. And, in case you didn't know, the habit of constant or chronic nail-biting actually has a name: It's called "onychophagia," and according to a 2016 study published in the journal Case Reports in Dentistry, it's one of the most common personal habits among children and young adults, despite the fact that most of us know it's not exactly a good thing to do.
Like any annoying habit, nail-biting isn't without consequences, as it can result in infection or soreness at the nail bed, for one thing. Plus, you probably don't need me or anyone else to tell you that it's low-key gross to have any part of your hands in your mouth all the time.
But fret not, my friends, because there are plenty of ways you can begin to shift out of this pesky behavior that might have started all the way back in childhood. Here are a few strategies to try out.