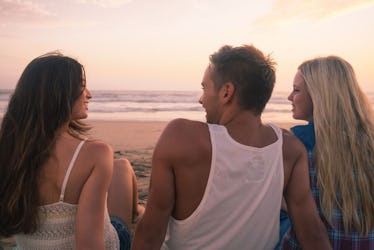 A Therapist Breaks Down What To Do If You Have Chemistry With Your Friend's Partner
Your best friend has impeccable taste. You trust her choice in clothes, restaurants, and even potential partners. It's just one of the many reasons you enjoy having her in your life. Sometimes, though, your bestie uses her talents to find the perfect boyfriend or girlfriend for herself, and you can't help but be a little envious of their relationship. Especially if you spend a lot of time with them both, you might notice some chemistry between you and your best friend's significant other. It's one thing to have a crush on your friend's boyfriend or girlfriend, but it's another thing entirely to act on those feelings.
If you find yourself thinking about a good friend's partner in a romantic way, don't freak out. I spoke to relationship expert Anita A. Chlipala, LMFT and author of First Comes Us: The Busy Couple's Guide to Lasting Love, about how to handle this less-than-ideal situation in the most graceful way possible. She has advice about who it's safe to share your secret feelings with, which potentially uncomfortable situations you can avoid, and how you should proceed if the two do eventually break up. So if you find yourself crushing on a friend's boyfriend or girlfriend, here are four steps you can take to ensure the situation doesn't get out of hand.